Bridget's Kerusi Panas – a GE15 podcast series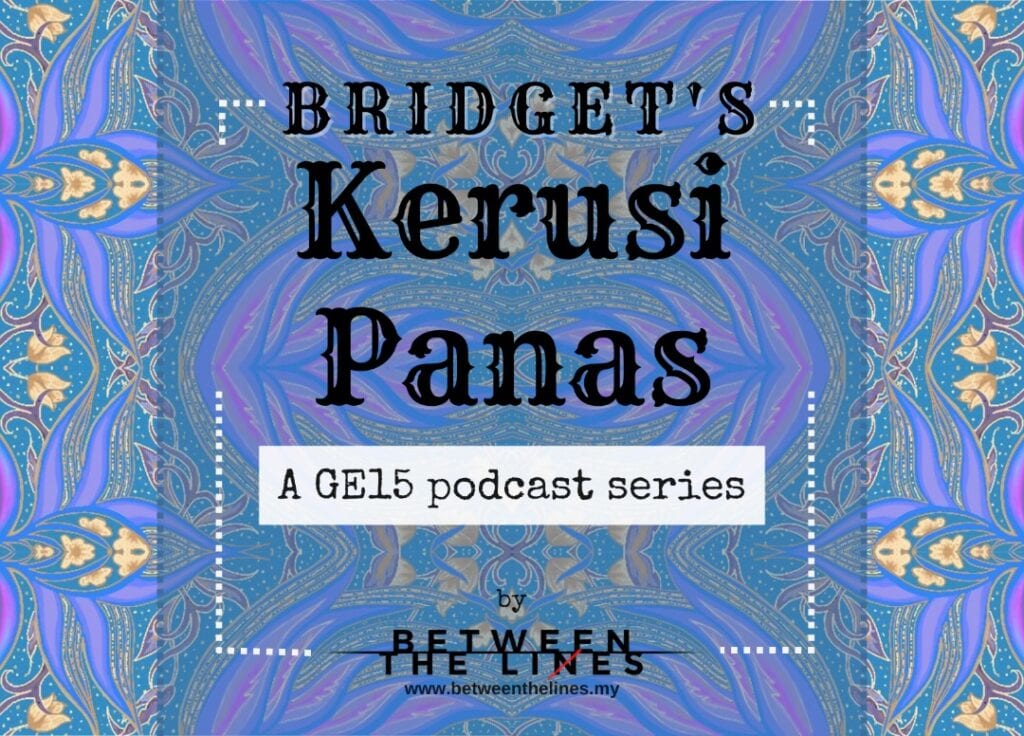 Brought to you by Between The Lines and hosted by political analyst by Dr. Bridget Welsh. Bridget's Kerusi Panas takes an in-depth look at the hottest constituencies (not literally) which could end up deciding Malaysia's 15th General Election (GE15).
Sign up free to our newsletter to get notified whenever a new episode drops!
Once the seat of ex-PM Dr. Mahathir Mohamad, Kubang Pasu is now held by Amiruddin Hamzah, from Dr. M's new party, Pejuang. History, though, may mean very little in GE15, what with BN, Pakatan Harapan, and Perikatan Nasional breathing down the incumbent's neck.
Dr. Bridget Welsh goes up north to Penang and the parliamentary seat of Balik Pulau, which, like the durians the town's famous for, is proving to be a very prickly seat indeed.
Dr Bridget is in Sabah! Specifically, she's in the semi-urban, semi-rural mightily diverse seat of Sepanggar where a royal 5-way battle is underway.
Still in the Land Below the Wind, Dr Bridget cast her eye on the Big Rock, or Penampang. Can teenie, weenie party Upko, already punching above its weight in the Sabah, make a big dent come GE15?
Hello Sarawak! Dr Bridget Welsh is in the often overlooked but oh, so important seat of Julau, which, as she points out, is famous for its pepper, Tapah fish noodles (so much yum!) and politics.
Bridget's in Sibu, where the might of Gabungan Parti Sarawak (GPS), Democratic Action Party (DAP), and Parti Sarawak Bersatu (PSB) fight it out. Get to know this seat, at the heart of majestic Sarawak, geographically and politically, as we race towards GE15.
Kuantan, the seat of Pakatan Harapan's Fuziah Salleh. She will have her hands full in trying to retain her Malay support with even BN opting to field an Umno candidate in the once MCA seat. But is there more to Kuantan?
Episode #8: Hulu Terengganu
Bridget is in Hulu Terengganu, the "hottest seat on the east coast".  First created in 1974, it has always been in true-blue Malay Umno territory, except when incumbent Rosol Wahid frogged it over to Bersatu in 2018. Can Umno hold on to this seat?
Episode #9: Kuala Selangor
Dr. Bridget Welsh ventures into Pakatan Harapan territory of Selangor, specifically to seafood-loving Kuala Selangor, where BN's caretaker moneybags minister takes on a popular former health minister.
Episode #10: Sungai Besar
For our final episode in this series, Dr Bridget Welsh remains in Selangor but looks to the Bersatu-held seat of Sungai Besar, where BN's once-towel-sporting polarising candidate Jamal Yunos is trying to rebrand his headline-grabbing antics as a fight for the people and claim the seat back for Umno.
BONUS EPISODE! Dr Bridget is in the Silver State! Perak is one of 3 states holding both Parliament and state contests. It's a "fierce battle!" and in this special episode, Bridget looks at the dynamics of the whole state going into GE15.