What the future holds: Sabah's custodians of the forests between land and sea
Times have been challenging and fish stocks have dwindled, but the fisherfolk of the Lower Kinabatangan-Segama Wetlands (LKSW) continue to hope for a better tomorrow with the protection of Malaysia's largest contiguous mangrove forest. EMILY DING goes on location.
Photos by Emily Ding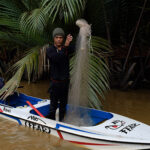 Times have been challenging and fish stocks have dwindled, but the fisherfolk of the Lower Kinabatangan-Segama Wetlands (LKSW) continue to hope for a better tomorrow with the protection of Malaysia's largest contiguous mangrove forest. EMILY DING goes on location.
Photos by Emily Ding
Sign up for free to be updated on BTL columns and special reports like this one!
MOHD Azril Putrah is a proud fisherman of Tidung descent. His current ride is a slim pink perahu or boat rimmed in baby blue that he has painted with the name Penantian ("the waiting" in Malay). When I asked why, he laughed sheepishly, "Because she's always waiting for me."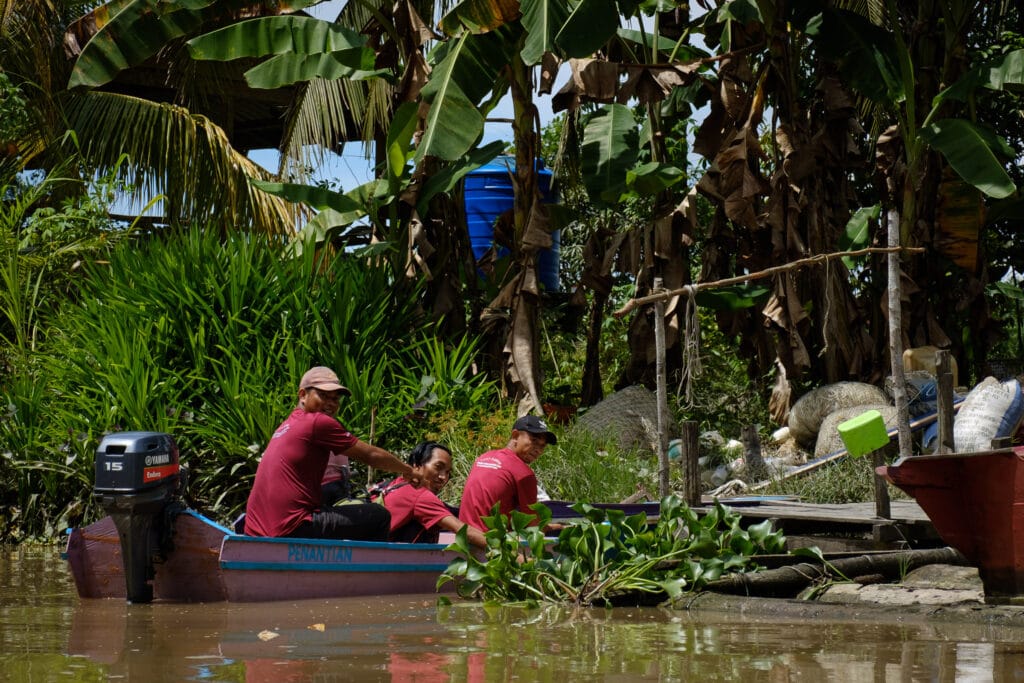 Azril lives with his extended family in Dagat, a riverine village in the Lower Kinabatangan-Segama Wetlands (LKSW) of Sabah, more than 100km away from the closest city, Lahad Datu. And in a world where fisherfolk everywhere are lamenting dwindling fish stocks, Azril's good cheer is a little unusual. Even he acknowledges that there are challenges, and concerns over what more climate change will bring.
"Tetapi buat masa ini, kami masih bertahan untuk masa depan (But for the moment, we're still holding on for the future)," he said in Malay. "Fishing lets you earn a living for yourself together with your family, and it lets you be closer to them, and to see your friends at sea. For me, the work of a fisherman is memang (definitely) best."
What makes the LKSW important?
It is Malaysia's largest Ramsar site—a wetland designated to be of global importance under the Convention of Wetlands, which was first adopted in the Iranian city of Ramsar in 1971.
It consists of mangroves, nipah palm and peat swamp forests, and other ecosystems.
Fed by the Kinabatangan and Segama rivers and other tributaries, it flows into the Sulu Sea and the Coral Triangle—one of the world's marine biodiversity hotspots.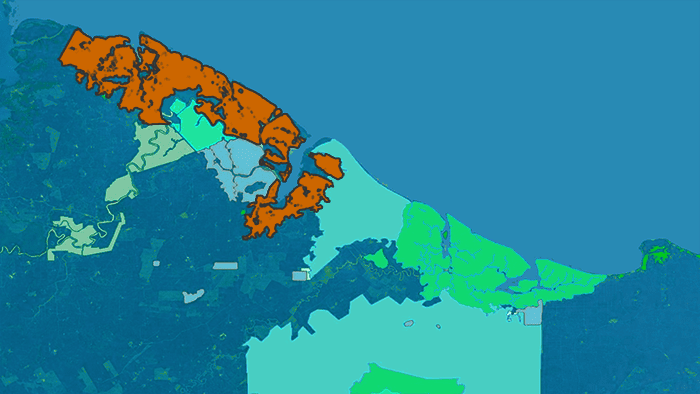 Trusan Kinabatangan, with Class I protection forest and Class V mangrove forest (40,471ha)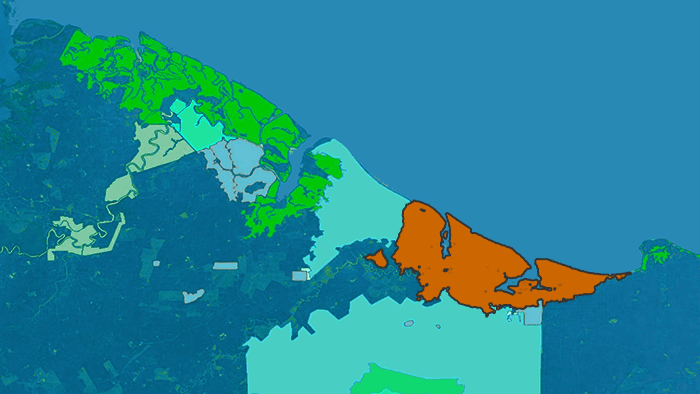 Kuala Maruap and Kuala Segama, with Class V mangrove forest (17,650ha)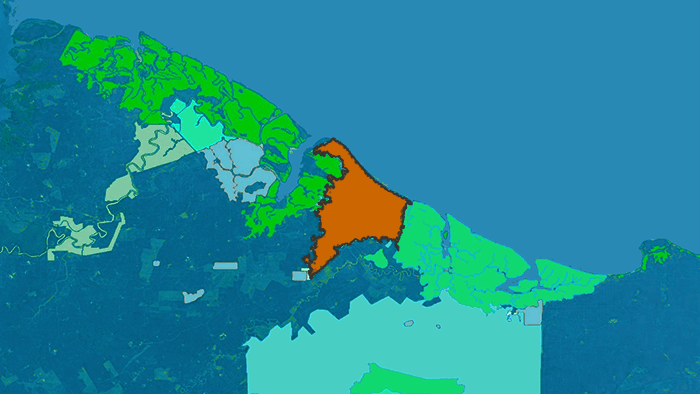 Kulamba, with Class VII wildlife forest (20,682ha)
It is home to some 3,000 Indigenous and local Sungai, Suluk, Idaan, Brunei, Tidung, Kagayan, Bugis, and Bajau communities.
They are spread across eight villages: Abai, Pitas Laut, Mumiang, Bongun, Sri Ganda, Tundun Bohangin, Dagat, and Tidung—which have been around for between 60 to 200 years.
Totalling 78,803ha, the LKSW contains Malaysia's largest contiguous mangrove forest. This makes it both locally and globally important, especially given that the world faces a climate crisis and mangroves sequester up to 4 times more carbon than rainforests while protecting against coastal erosion and storm surges.
But although the wetlands have been formally protected from large-scale harvesting — such as for coal production — since its Ramsar designation (see infobox), problems remain. 
Among others, there are conflicts between fisherfolk due to overfished stocks, the illegal harvesting of tangar mangrove tree barks reportedly by migrant fishers from neighbouring countries, the poaching of endangered wildlife, and water pollution by oil palm plantations and mills upstream.
And these issues affect the LKSW's inhabitants, most of whom are subsistence fisherfolk who live far from the state's electricity and water grids and depend on the ecological integrity of the wetlands and its mangroves to survive.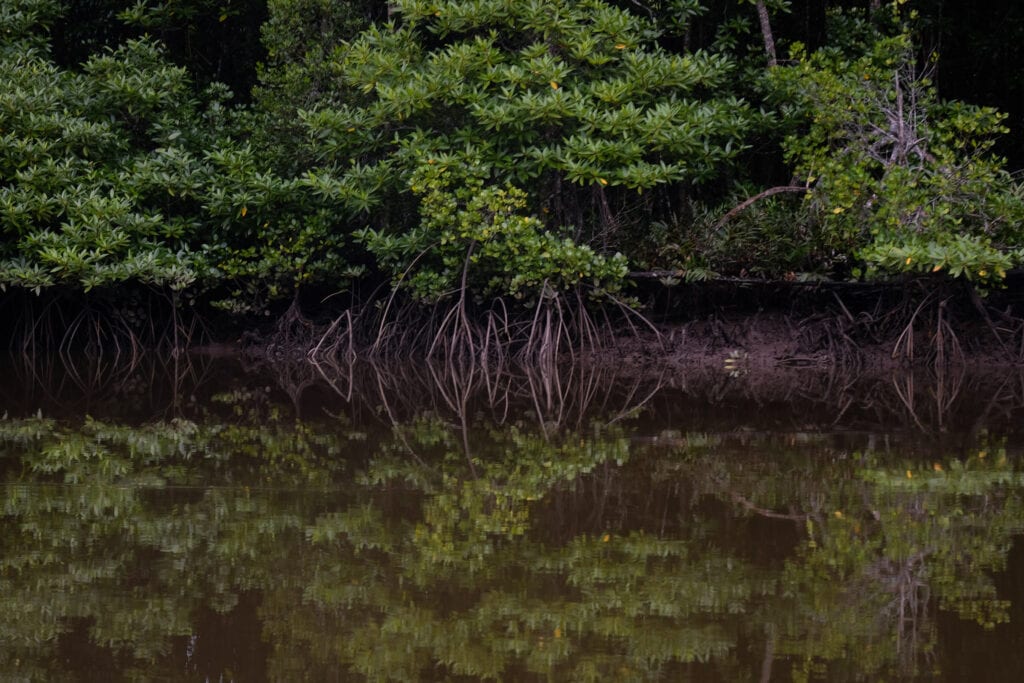 The mangroves are home to various species of fish, crustaceans, and molluscs and are also conducive breeding sites and nurseries for marine species as their dense roots offer shelter from predators and food in the form of trapped organic matter. These sustain both artisanal fishers and commercial fisheries.
And being the favoured habitat of wildlife such as proboscis monkeys, pygmy elephants, rhinoceros hornbills, and mudskippers, these mangroves provide villagers with a basis for developing ecotourism.
This, then, is all the more reason why it is they who should be engaged to protect the LKSW, explained Neville Yapp, a facilitator with non-profit Forever Sabah, which works to empower local communities in socioeconomic development and nature conservation.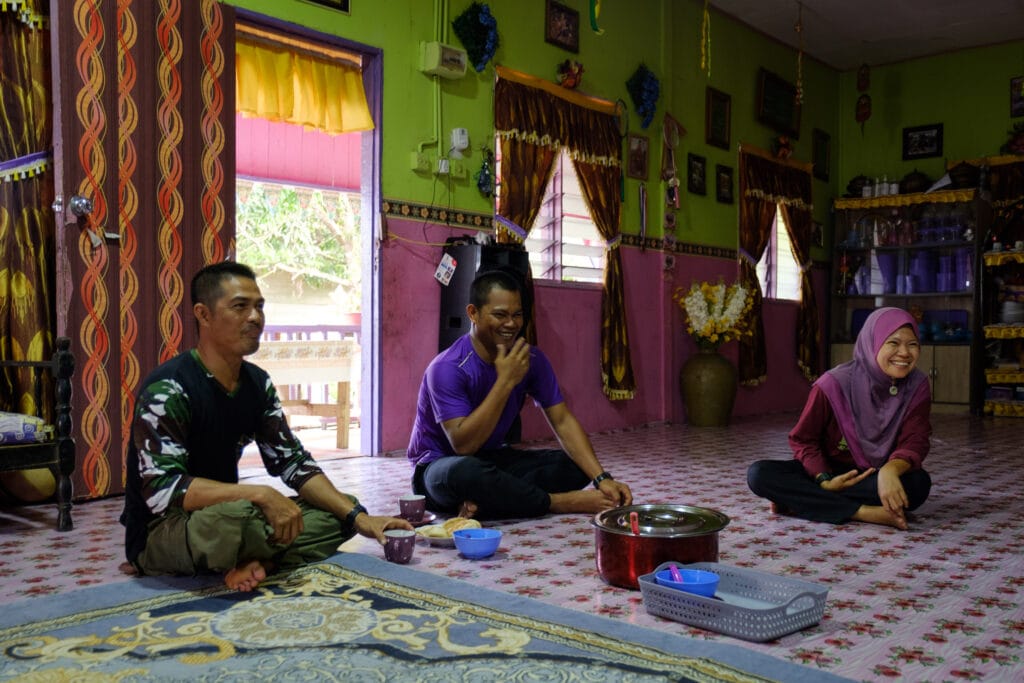 Furthermore, although the wetlands are largely protected as forest reserves, it's difficult for authorities to effectively patrol their remote reaches. As such, indigenous and local inhabitants like Azril can play an important role as custodians.
"We train the villagers to understand the dos and don'ts in the Ramsar site, so they can become our eyes and ears in the field," said Mohd Shah Fikri Rosli of the Sabah Forestry Department.
I wanted to see and understand the nature of this special relationship between the villagers and mangroves for myself. So, in late October 2022, I took a series of boat and car rides from Sandakan to the villages of the LKSW, starting with Mumiang and Pitas Laut, and eventually ending in Dagat.
My visit coincided with the start of the northeast monsoon, which usually runs from November to March. While the West coast of Sabah worried about flood warnings, villagers on the East coast prepared to embrace the rainy season, as it also heralds the coming of udang galah (giant freshwater prawn) season.
One afternoon in Dagat, I followed villagers Runji Ramsa and Mohd Sapri Sapran out on a boat. We headed to where the Tabin River meets the Segama River. It's apparently the best place to catch udang galah at this time. I could see the tops of bottles floating on the water, markers for the tube-shaped bubu traps that hung from them, anchored into the riverbed some 2m below.
"The water here is clear and not so muddy, and the prawns will flow down here with the water from the Segama," Runji said.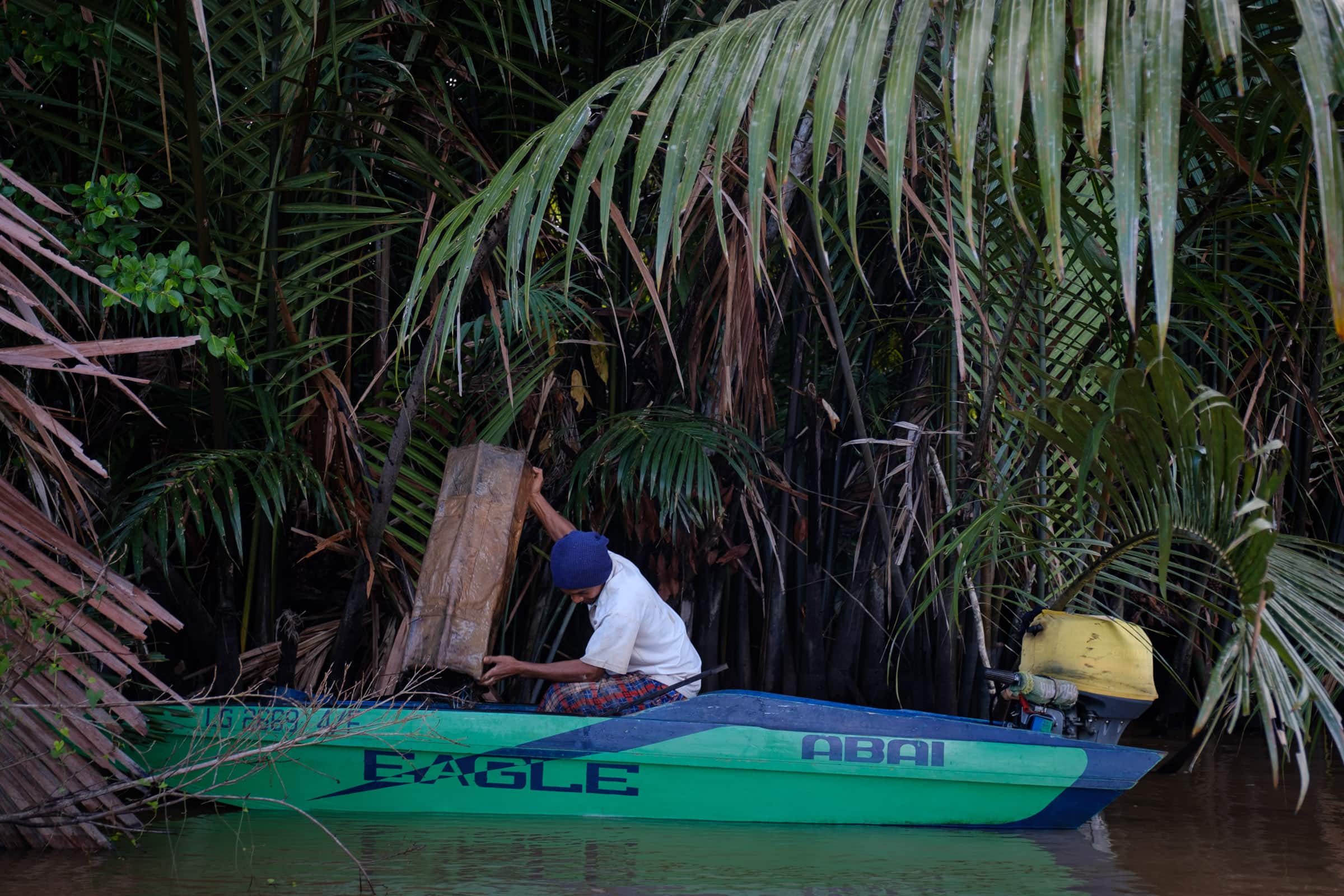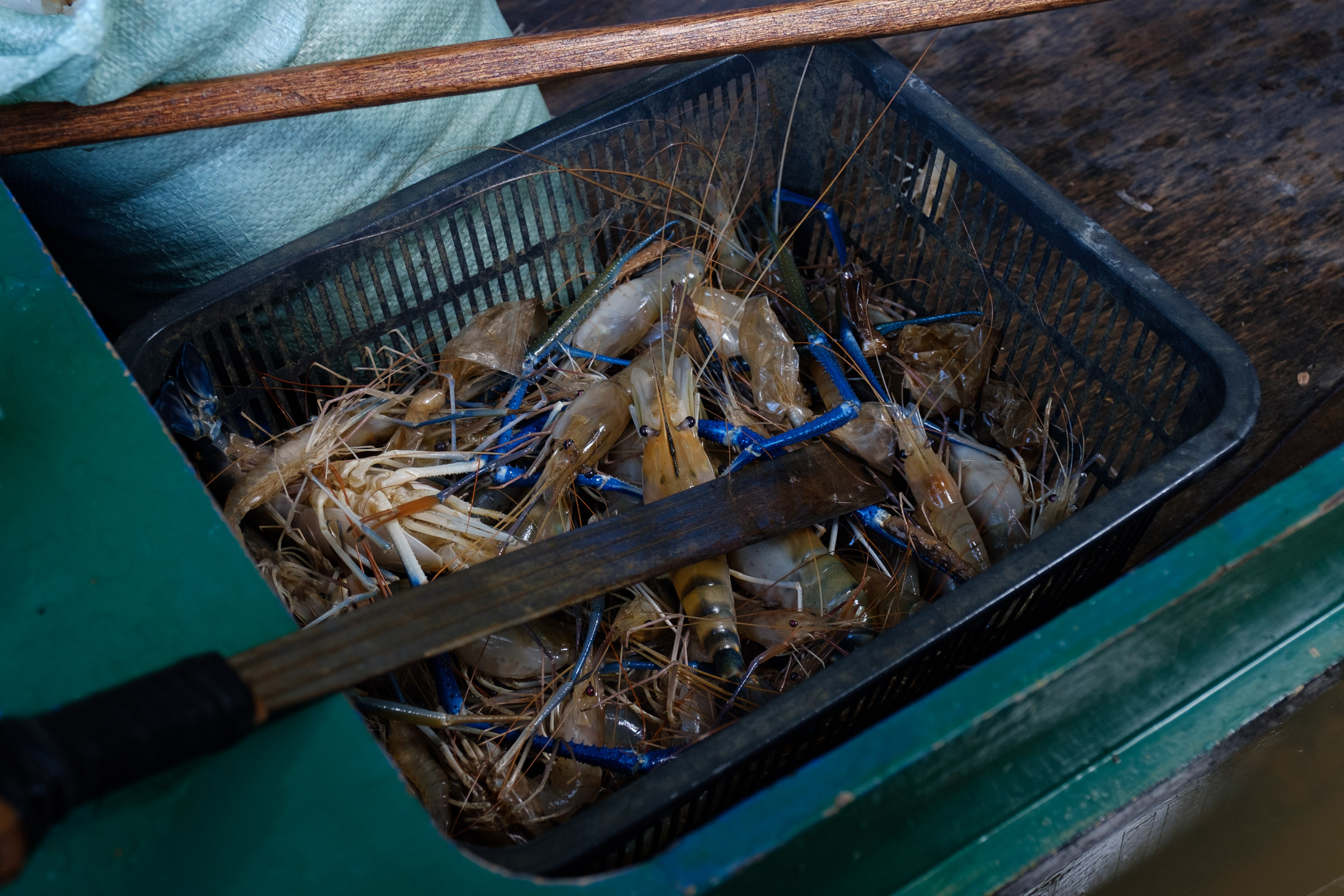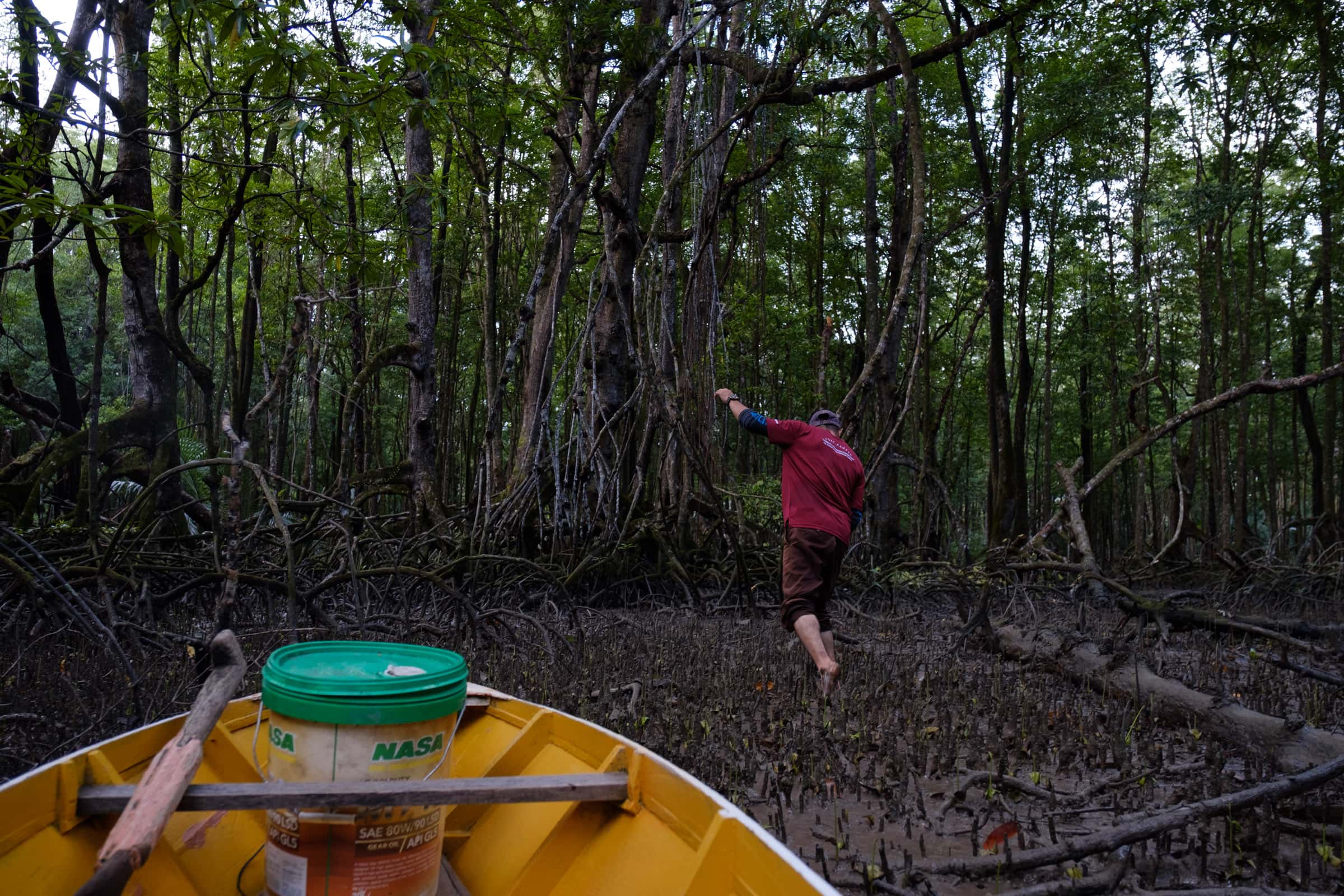 Later, we turned into a waterway shadowed by mangrove trees, where the mosquitoes were a mist so thick you could feel them with a swat of your hand. Some of the mangrove trees here have hanging seeds shaped like slim little spears, which, when they fall to the ground, anchor in the mud and grow into new trees.
We paddled right up to the riverbank. And barefoot, Runji stepped out onto the mudflats to show me how they normally gather cockles, which they call lokan. 
He said the villagers also forage here for mud crabs and conical snails called siput sedut, for their own consumption and occasionally, for sale.
Up and down the rivers throughout my journey, I watched fisherfolk checking on their bubu traps that had been left out overnight or casting a rambat net wide onto the water; showing up as tiny solitary figures against towering walls of mangroves and Nipah palms lining the riverbanks.
In 2021, the World Wildlife Fund (WWF) reported that Malaysia had lost 96% of its fish stocks in less than 60 years, due to overfishing and destructive fishing methods like trawling and fish bombing. And according to Forever Sabah, Sandakan's annual landings for 10 of the most critical inshore species declined between 75% and 95% between 2008 and 2017.
Sign up for free to be updated on BTL columns and special reports like this one!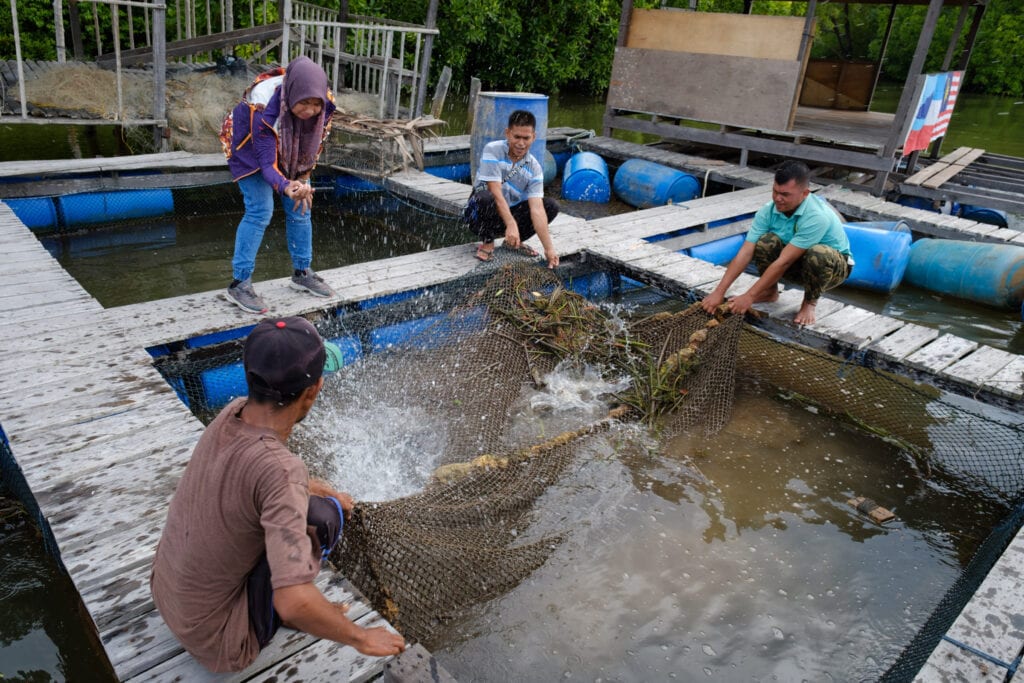 In Pitas Laut, an inland village sandwiched between a mangrove forest and a sand beach, a gangly man named Ridzuan Jamaludin joked about how he would head out to sea and come back with nothing. "Hari-hari pergi laut punch card saja! (every day we go out to sea to just clock in)." His laugh, however, rang a little hollow.
Udang galah catchers might fare better, but even so, not like before. "When I cast a rambat, I might get 3 prawns, or 2, or 1 or none," Sapri said. "Our old folks used to get more."
Credit: Featuring Muhar Jarma from Pitas Laut village. Made by LKSW villagers in collaboration with the Suara Community Filmmaking programme run by the media unit of KOPEL, a village-based cooperative in the Kinabatangan.
The race to capture what's left in the seas and rivers has led to conflicts.
"Traditionally, each of the LKSW villages has their own fishing zone, approximately up to 50km away along their stretch of river. What happens now is that fisherfolk from Sandakan have to go to other places to fish because Sandakan is quite polluted," Fikri of the Sabah Forestry Department explained to me. 
This has sometimes caused friction with villagers. "It's a sensitive issue," he said.
The competition, he added, has also sometimes forced villagers, most of whom live below the poverty line, to harvest illegally from forest reserves when driven to desperation.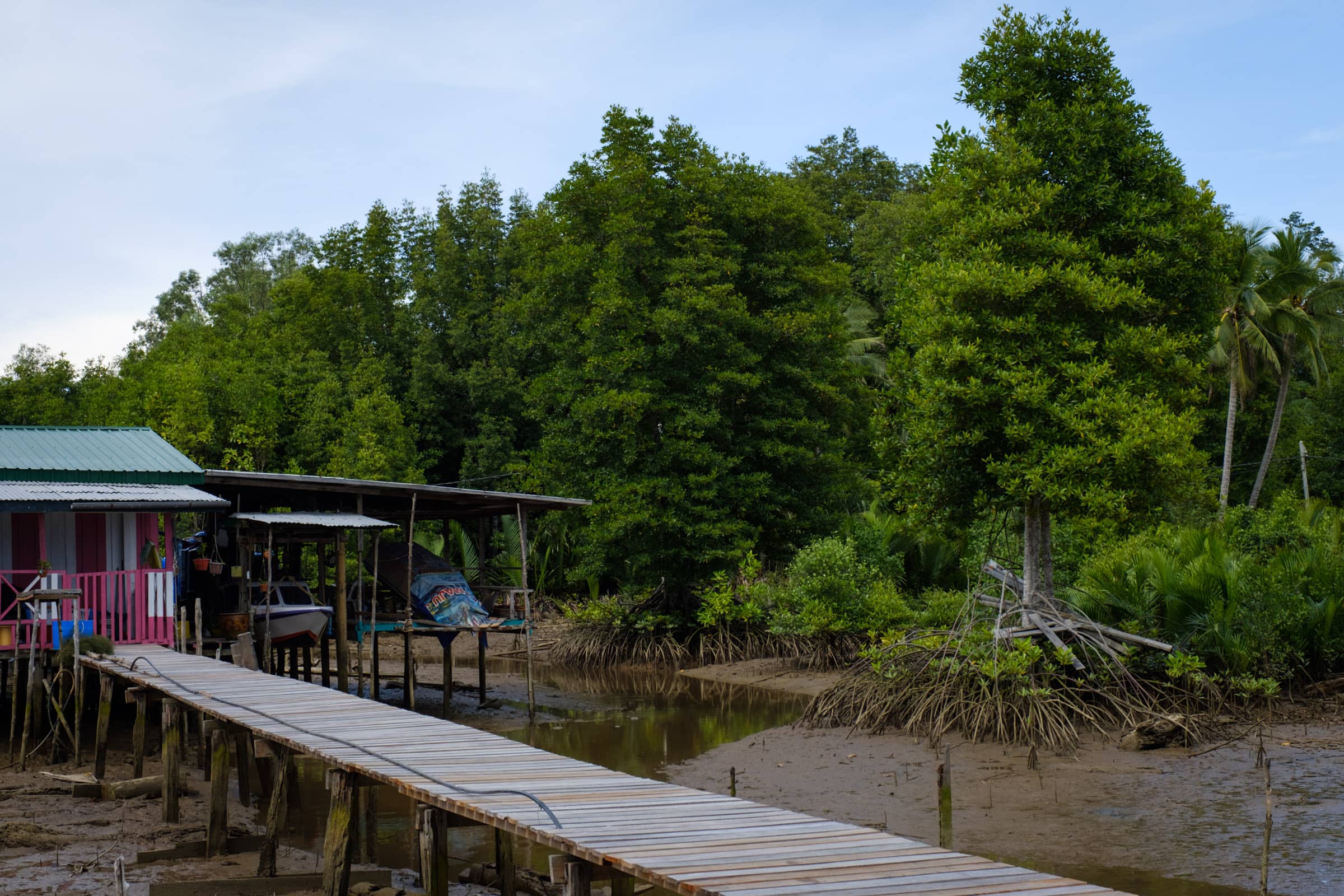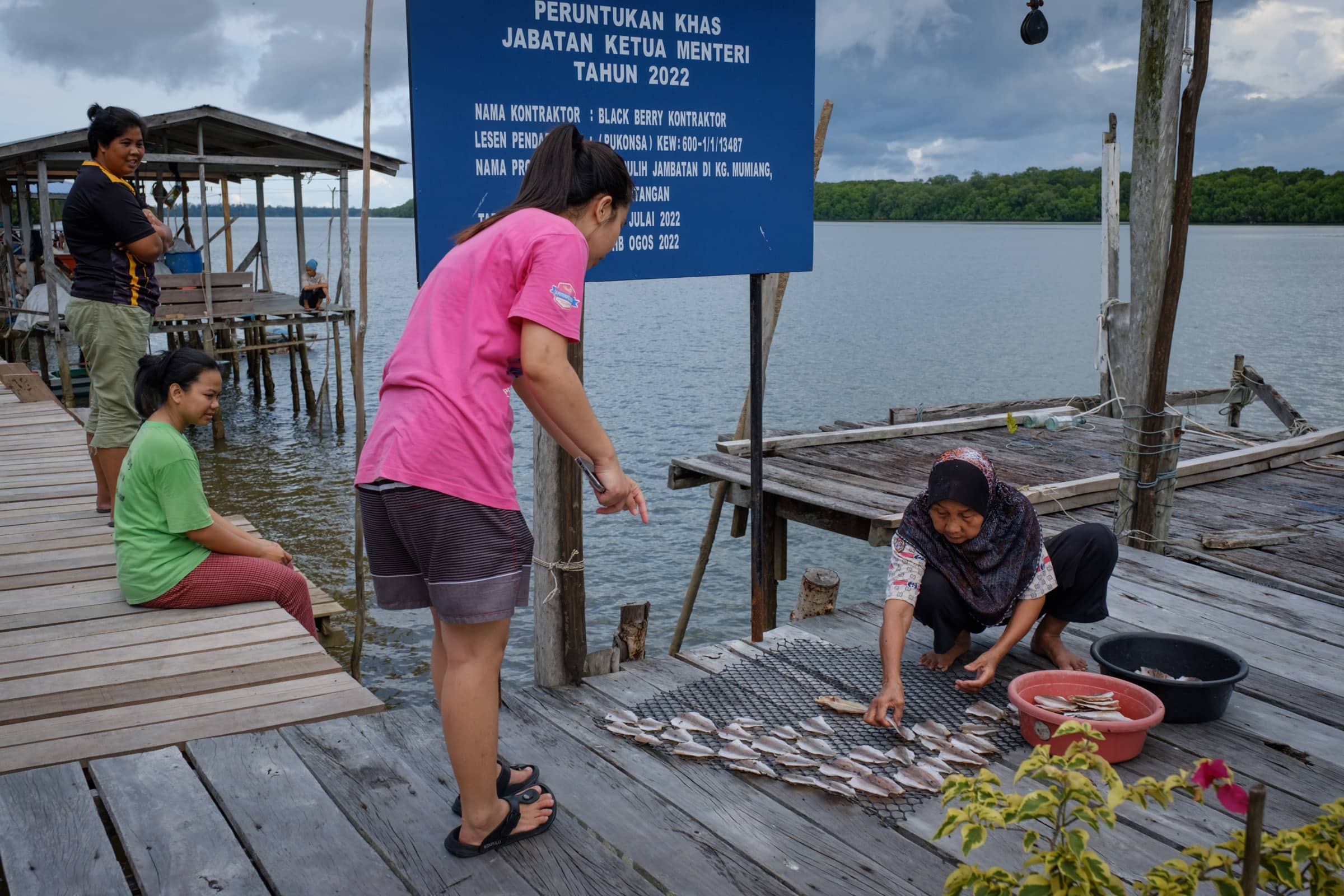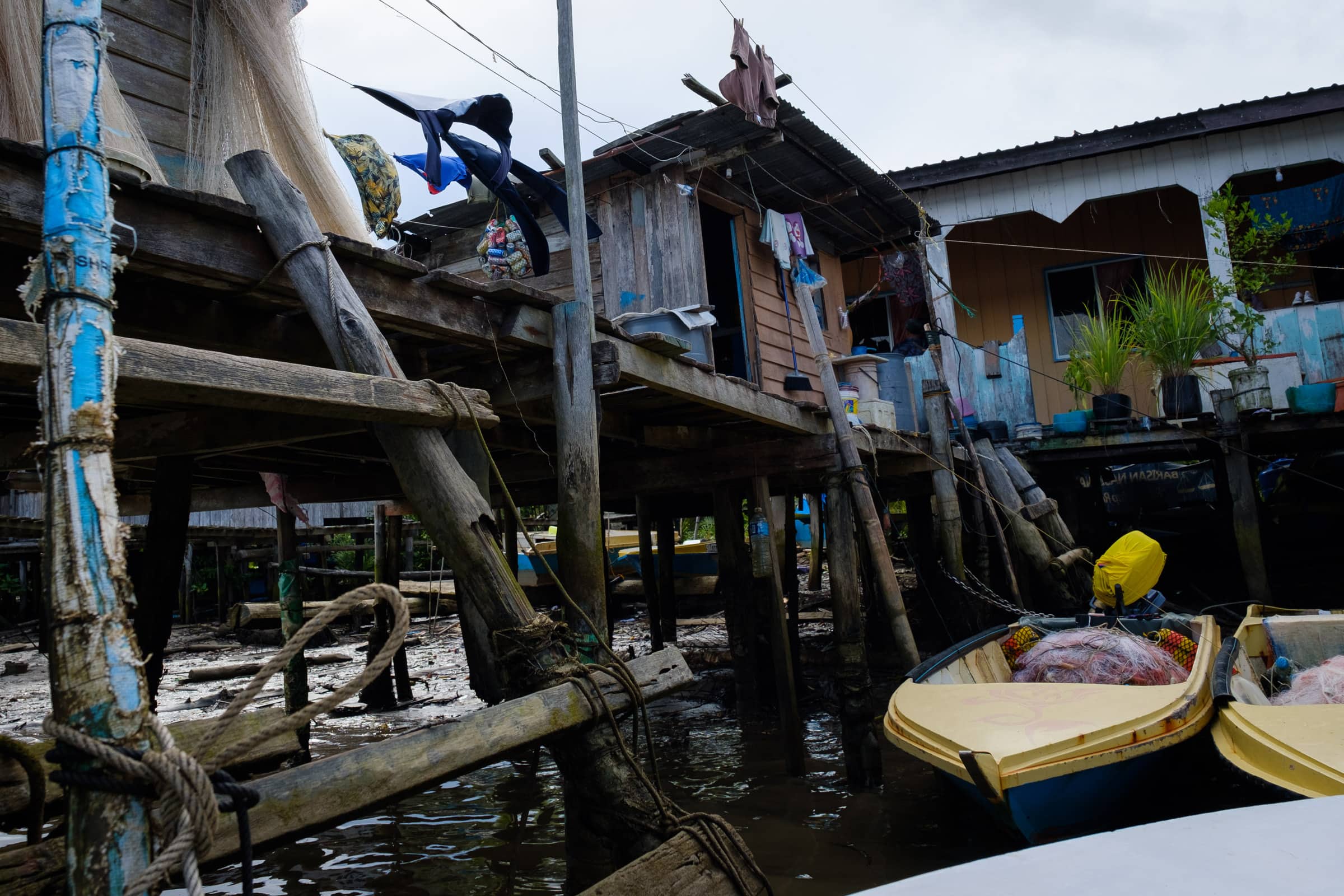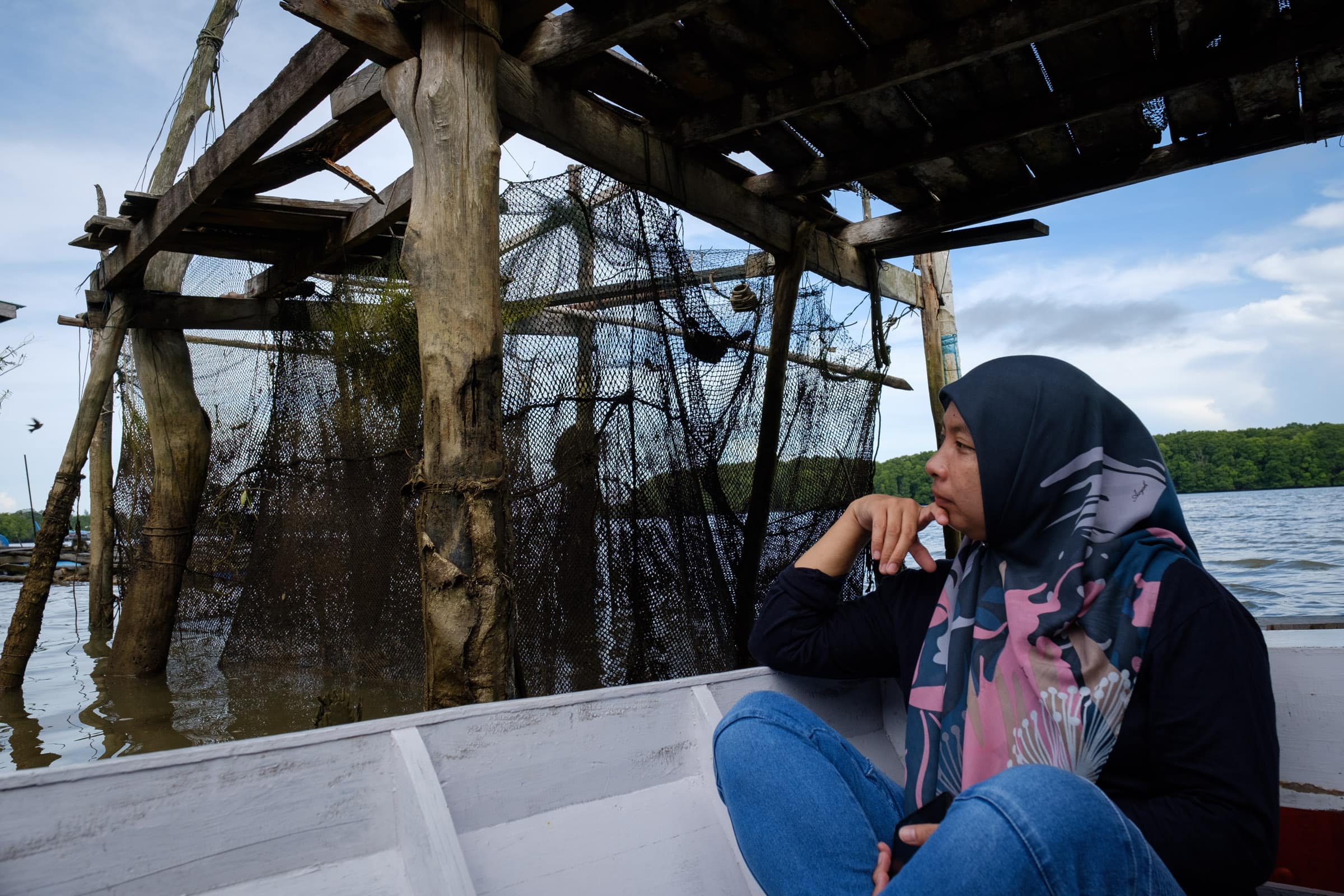 To augment their catches, some villagers rely on sangkar, or fish cages, to grow juvenile fish before selling them. These cages are particularly visible in Mumiang, a water village with wooden houses connected by raised wooden walkways. Boats are parked beneath the homes here, with cages hanging from stilts or floating in pontoons.
Though the wetlands themselves are protected, they are sensitive to environmental changes in the areas buffering them. And according to Forever Sabah's Yapp, some villages have suffered mass fish deaths due to water pollution from oil palm mills and plantations outside the wetlands' boundaries upstream.
In November 2015, the villagers of Mumiang lost 7 tonnes of caged fish in a single day; the fish found dead overnight. Rusmini Aman, one of the women who works at the village's floating fish processing centre, remembered that the water turned a strange sickly green. The same thing happened in 2010, 2011, and 2016, though with less disastrous results.
Rusmini Aman and other women of Mumiang lunch and chat at their fish processing centre.
Get our newsletter to receive summaries on main Malaysian news, straight to your inbox!
On a day I was there, I took a boat upriver to Sungai Melangking and found Nipah palms quickly giving way to oil palm trees. These were planted right down to the riverbanks, instead of at least 20m inland, as is usually recommended.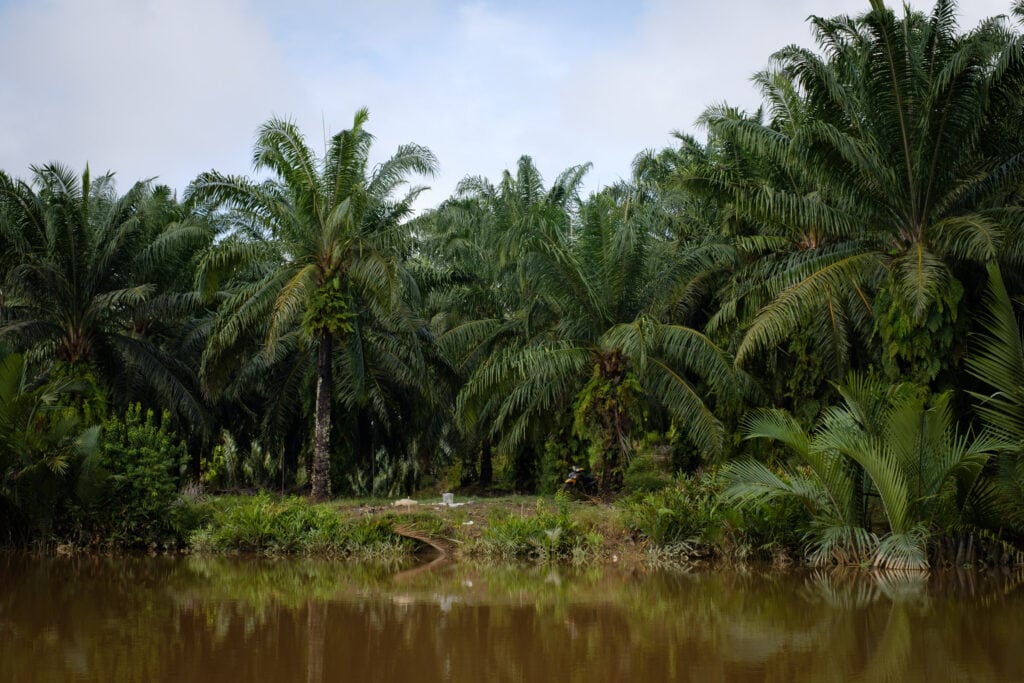 In 2016, Mumiang's villagers began their own water-quality monitoring initiative as part of a collaboration between Forever Sabah and the Sabah Forestry Department. However, due to inconclusive evidence because of a lack of experts to interpret the data, according to Fikri, no party was identified as being responsible or held to account for the pollution.
Yet, while the villagers learn new skills to safeguard their homes, a question remains as to how their traditional knowledge should be evaluated and what role it should play in striking a balance between conservation and livelihoods.
For a long time, these fisherfolk have built underwater ranggas traps in mangroves to attract more fish, based on knowledge handed down from their ancestors. They say it is by far the most effective method of catching fish. 
"Meranggas is our primary vocation. Since I was 11 years old, I've been following my old folks to do it," said Ateh Asgali, a Suluk fisherman in Mumiang.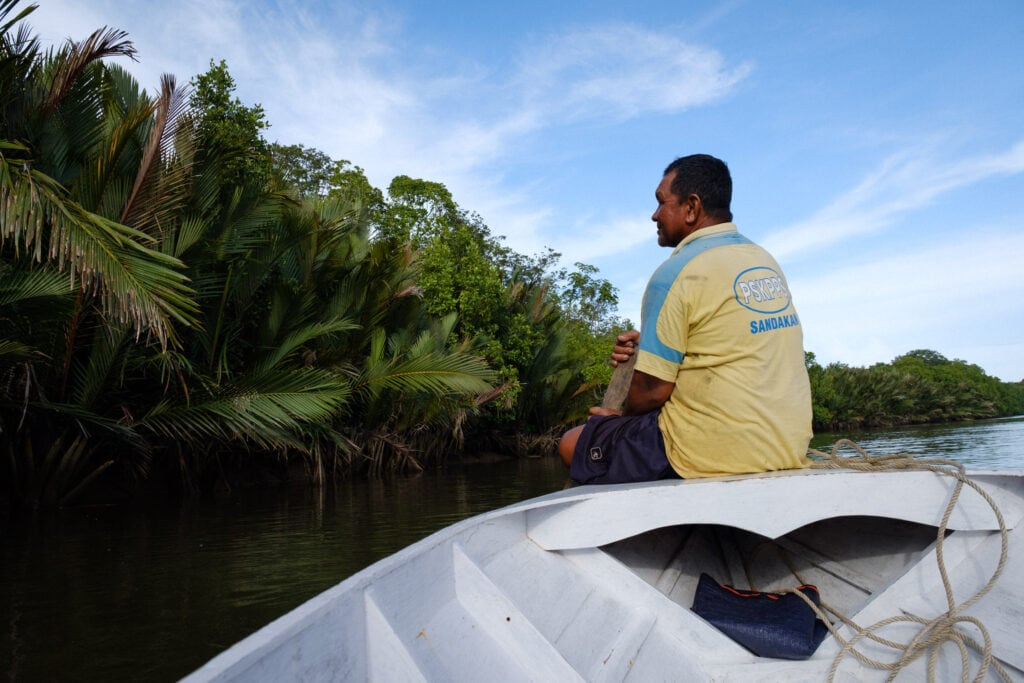 It's a team effort that involves cutting down mangrove trees to replicate those that fall naturally into deeper parts of the river, attracting more fish to circle around the tangled branches for shelter and food in the form of trapped organic matter. The villagers, however, say they have stopped the practice since 2017, as it was deemed to be unsustainable by the authorities.
Showing me the different species of mangroves on a boat ride one day, Ateh said he thought there might have been a misunderstanding. "The authorities think we're going to do it for the whole year, but it would just be for 4 months in the year. And we wouldn't be cutting trees every day."
Sabah's mangroves in the global context
Over 11,700km2 of mangroves have been lost globally since 1996, the baseline year used to define "recent" loss—though the rate of loss is decreasing. (Source: Global Mangrove Alliance)
Southeast Asia is home to a third and most of the world's mangroves; it is also the region that has experienced the most extensive mangrove loss. (Source: Global Mangrove Alliance)
Within Southeast Asia, Indonesia's mangroves make up nearly 60 percent of the total, while Malaysia's make up around 12 percent. (Source: Wetlands International)
A 2020 study shows that the annual average rate of mangrove loss in Sabah—0.58% or 1,705 hectares a year—between 2000 and 2015 is higher than global average estimates of 0.16% to 0.39%. (Source: MDPI)
Mobilising as a community
The evening I arrived in Dagat, children were playing on a dirt road, parallel to the Tabin River, flanked by wooden houses on stilts. Further down in a large field, next to a green mosque and large blue drums collecting rainwater for their daily needs, a group of women played volleyball. Surrounding all this were fields of oil palms.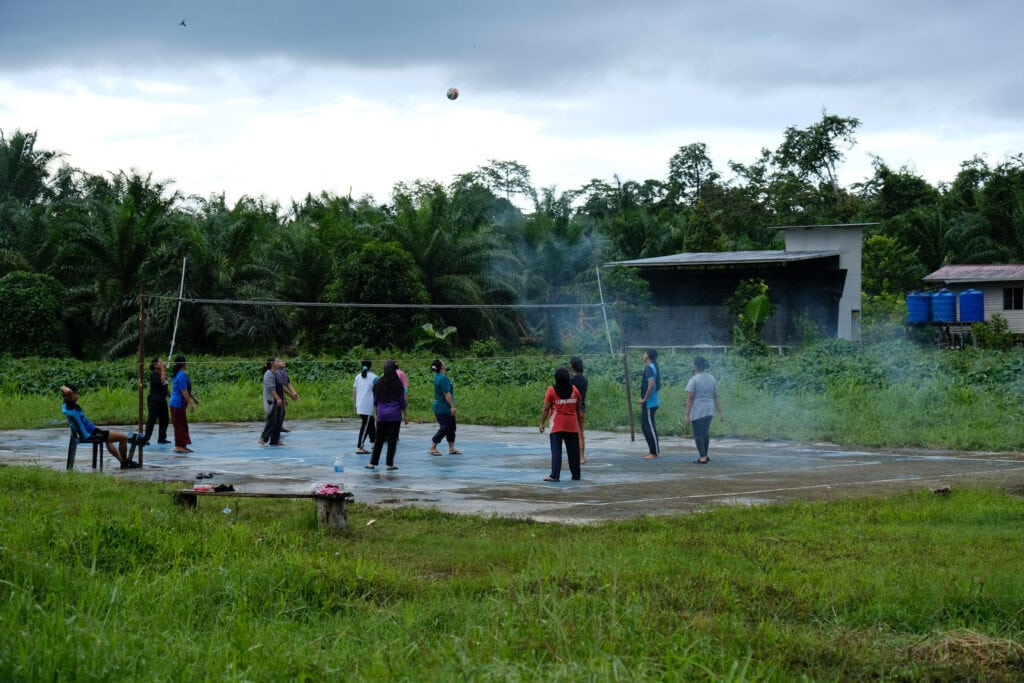 But unlike in other villages, where oil palm is increasingly cultivated because they offer a more reliable livelihood than fishing, these trees do not belong to Dagat because the villagers here have decided collectively against oil palm cultivation.
Rajimah Kasran, a coordinator for Forever Sabah who is also the daughter of Dagat's headman, said, "We could have applied for individual land titles but we were afraid that people would just sell their land, jeopardising our village's future. So we decided to keep the land as community land to avoid being disturbed by outsiders."
Instead of oil palm, they've partitioned the land for other planned uses, such as for growing vegetables, ecotourism, foraging for forest produce and replanting projects. For them, it's one way to face the problem of land insecurity that has plagued the wetlands' villages over the decades.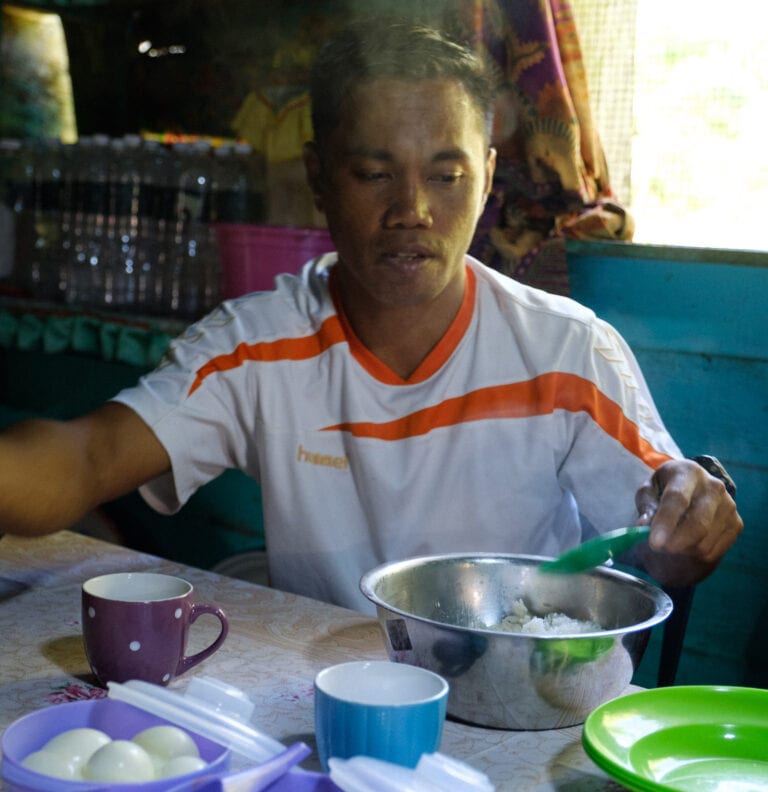 So where did the oil palms come from, then? Mohd Sapri, who with Runji showed me where udang galah is caught, said the oil palm plantations belonged to a corporation and were abandoned after the villagers reported the encroachment onto their land to the authorities. However, the villagers found a use for them.
"Before, we used coconut or potato as bait. These days, sudah moden (we've become modern)! We use oil palm fruits as bait for udang galah, since it doesn't cost us anything," Sapri said, laughing.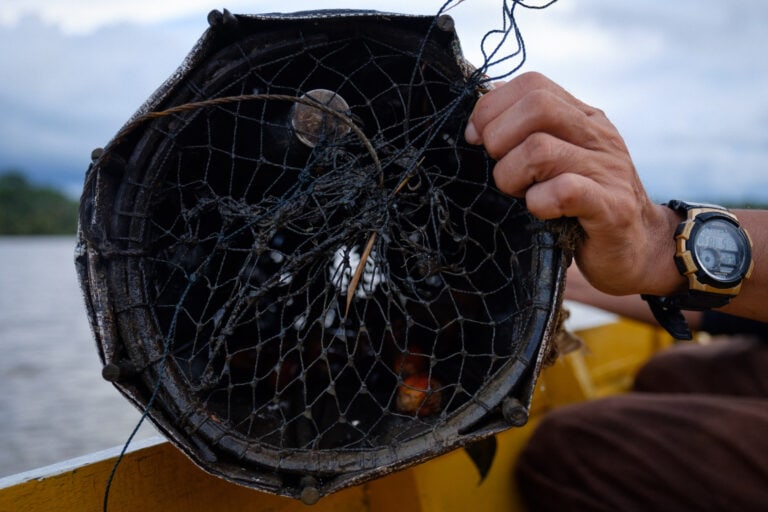 The scattered villages of the wetlands have also attempted other livelihoods to make up for dwindling fish stocks and to relieve human pressures on their environment.
In Dagat, the villagers previously offered homestay experiences and welcomed a small and steady flow of tourists, but the 2013 Lahad Datu incursion disrupted that.
In 2020, however, with a view to equipping themselves for when borders opened up again after the worst of the pandemic, villagers formed a community ranger team with the help of Forever Sabah and partner non-profits to better understand how orangutans are utilising the forests surrounding them.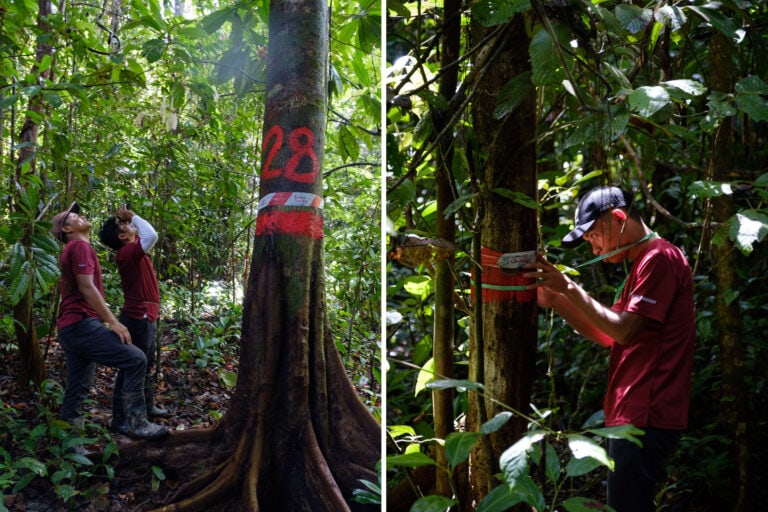 I headed out one day with the team into swampy forests where, in borrowed rubber boots, I sunk deeper into the mud with every step as they recorded the details of the trees in which orangutans liked to make their nests and from which they foraged. 
Yapp of Forever Sabah hopes the programme will help to promote local knowledge in a way that "puts them in the driver's seat to conduct research that addresses their concerns and priorities, rather than solely benefiting academic researchers as we have seen in the past."
Runji said that he and 10 other villagers have also been designated as honorary wardens since 2005 to deal with violators of regulations in the area, such as wildlife poachers. "We have the power to arrest and search them first before handing them over to the authorities," he said.
Get our newsletter to receive summaries on main Malaysian news, straight to your inbox!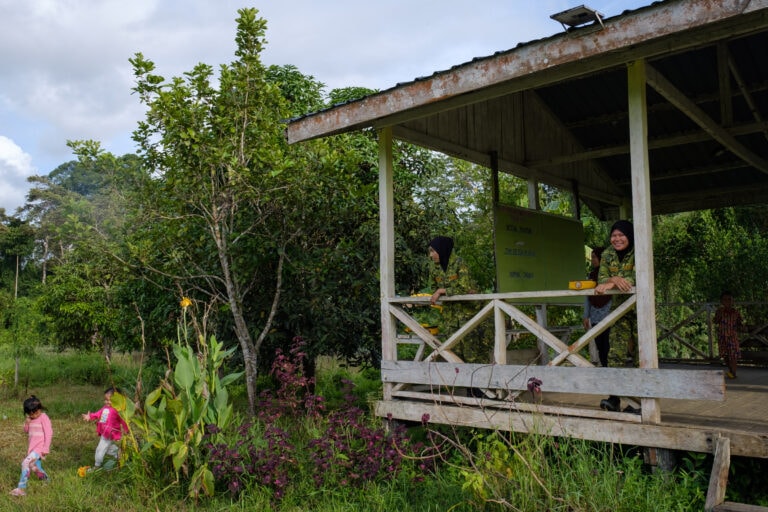 Other villages have tried to farm edible birds' nests, ducks for salted eggs, and goats for meat; all of these with varying degrees of success, depending on the challenges of nature faced or the internal dynamics of a community. Not everyone is on board with Forever Sabah's efforts, and the non-profit is careful to ensure it has a mandate from village leaders before carrying out its programmes.
Towards a proactive stewardship
The LKSW is extremely sensitive to human activities in its surrounding area. Moreover, though there may not be an immediate threat facing the wetlands, Yapp thinks it's important to remain vigilant.
Sabah's chief minister, however, said last year that stricter conditions would be imposed for degazettement.
Yapp argued that small-scale fishers, who make up the majority in the state, shouldn't be overlooked — a 2011 study estimated that their fish catches in Sabah may have been undervalued by up to 225% since the early 1990s — but instead be empowered to manage their community fisheries.
"Policy decisions tend to favour strong lobbying by powerful private institutions backed by politicians to invest in large-scale aquaculture. If this happens, the ecosystem benefits enjoyed by many will be severely degraded," he added.
In seeking to change this, over 170 fishers from the wetlands, with the help of Forever Sabah, began monitoring their fish catches as a joint community effort in 2020, so that their presence registers in the data. This would also make the actual pressure on existing fisheries better known for conservation purposes.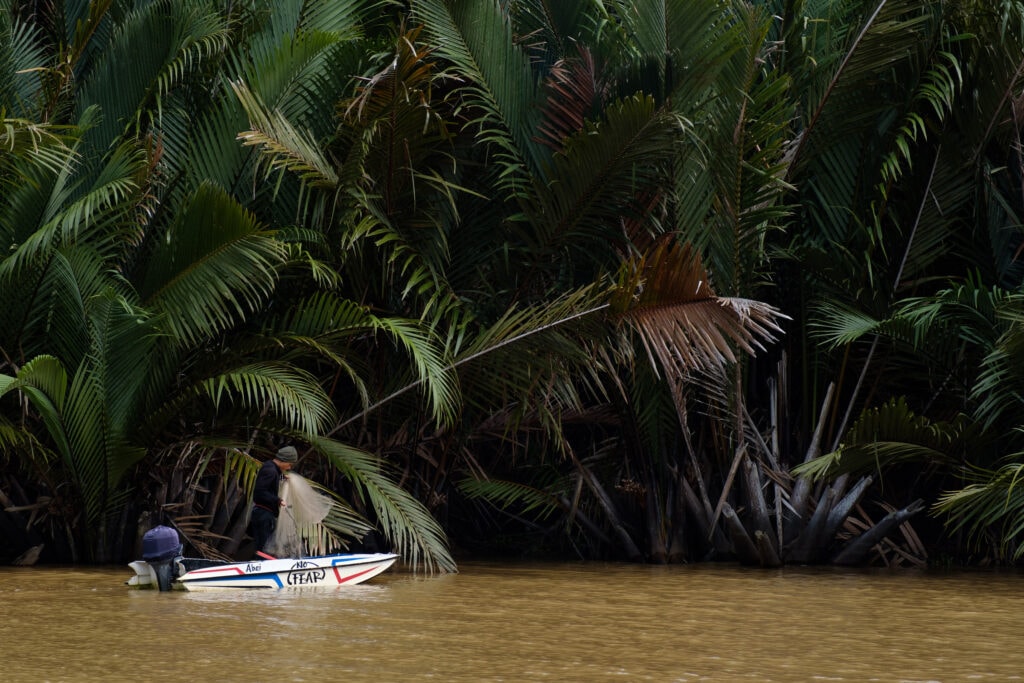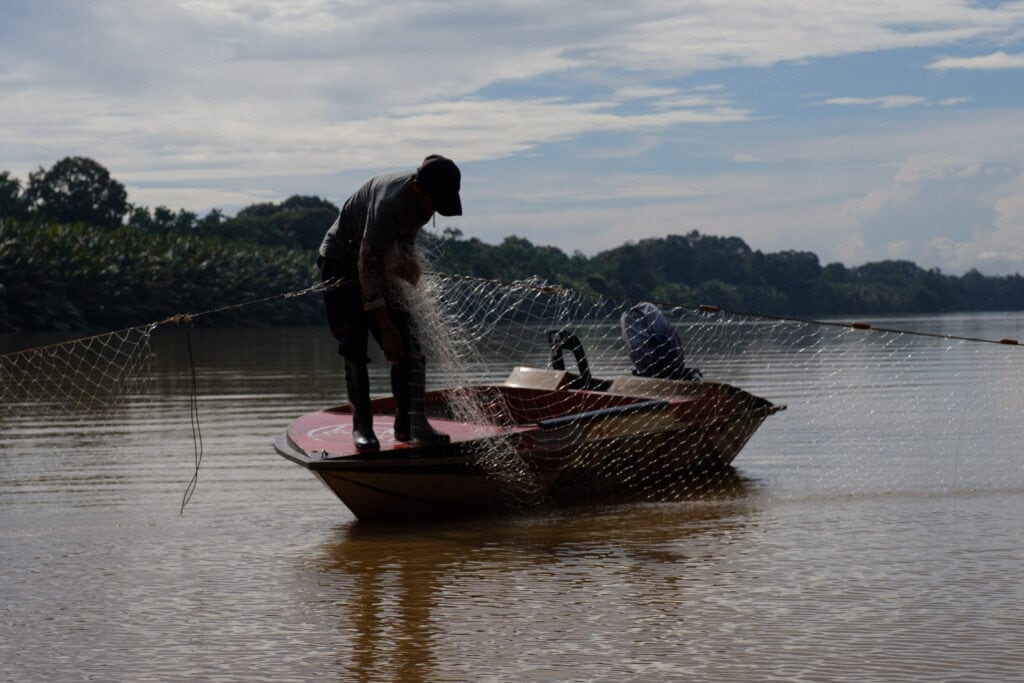 Looking ahead, it's also necessary to plan for what the climate crisis will bring. 
"Global warming is happening and it's impacting all around the world, and the Lower Kinabatangan-Segama Wetlands is not excluded. The impact that we fear most is the rising sea level, because that would mean the Ramsar site will get smaller," said Sabah Forestry Department's Fikri.
To prevent this, in the last 3 years, about 100ha of mangrove forests within the Trusan Kinabatangan Forest Reserve have been rehabilitated near Pitas Laut and Sri Ganda, in areas from which timber had been extracted commercially in the past. Fikri said that 7.35ha of mangrove were also replanted along a retreating coastline to mitigate erosion.
In the face of more dire threats to mangroves on Sabah's West coast, such as in Pitas, Kudat, where over 900ha were cleared in 2013 for what was supposed to be Malaysia's largest aquaculture farm, these wetlands could, if done right with the help of civil society organisations and government authorities, become an example of the potential of proactive, not just reactive, stewardship by local communities.
Said Rajimah: "We need to coexist in harmony with nature and wildlife. Dagat is 100% a fishing village. What will happen to us if we have no fish or prawns anymore?"

"Even humans need balance."