With the entire country deluged by torrential rains, one could be forgiven for relegating the Sarawak state elections to an afterthought. But the impact of the state polls on the nation should not be ignored – or underestimated. Analyst DR. BRIDGET WELSH writes.
Winning 93 per cent of the seats, Sarawak's sixth Chief Minister Abang Abdul Rahman Johari Abang Openg secured his own mandate, soundly defeating all opposition parties. The outcome was expected, but the intensity of the defeat speaks to ongoing shifts in Malaysian politics – a weaker national opposition, deepening federal-state divisions and, in this time of uncertainty, voter flight to safety.
Let's start with the latter. Voters gave Gabungan Parti Sarawak (GPS) a resounding win. More than two-thirds of the 82 contests were not even close. On the surface this appears to be a confirmation of 'old' politics – the use of patronage, the advantage of resources and excesses of incumbency. GPS was determined to dominate, sometimes unseemly so. The result echoes UMNO's return in Melaka last month. In Sarawak's case, however, most returned were incumbents, as relatively few new faces were fielded.
While salient, this 'back to the more undemocratic past' interpretation nevertheless fails to capture sentiments on the ground, to understand why even before the election was called 'Abang Jo' was coasting toward a secure and significant win.
Malaysia has now had three Covid elections – Sabah, Melaka and Sarawak. They all share elements in common: voters supporting a nostalgic return to a time of perceived greater security/stability and simultaneously, an increased saliency of money politics, aka vote buying, among a more vulnerable electorate. With greater austerity in distributive social spending, few appreciate that Pakatan Harapan's short tenure was not perceived as providing economic security. The PN and UMNO-PN Covid-related aid packages and campaign rewards are arguably even more powerful in the current ongoing economic crisis than these tactics of the past: An electorate focused on survival puts economic realities first.
According to Department of Statistics figures announced last August, poverty in Sarawak increased from 9 per cent in 2019 to 13 per cent in 2020. The results show GPS strengthened its appeal among voters feeling the economic insecurities of Covid, as occurred in Sabah and Melaka. Those voting for security should not be condemned for doing so. 
This 'back to the past' dynamic is also a repudiation of Harapan. Repeatedly, Anwar Ibrahim has been rejected as leader. His party lost all its seats (again). Anwar no longer has the ability to win support across the country as a whole.
The Democratic Action Party (DAP) only secured a third of the seats it won in 2016, a paltry two. There was real disappointment with DAP's leadership locally, which was seen not to deliver on promises for Sarawak when Harapan was in federal government. The party's decision to field its strongest incumbents in more secure seats such as Padungan also backfired, showcasing a misplaced focus on party leader fortunes.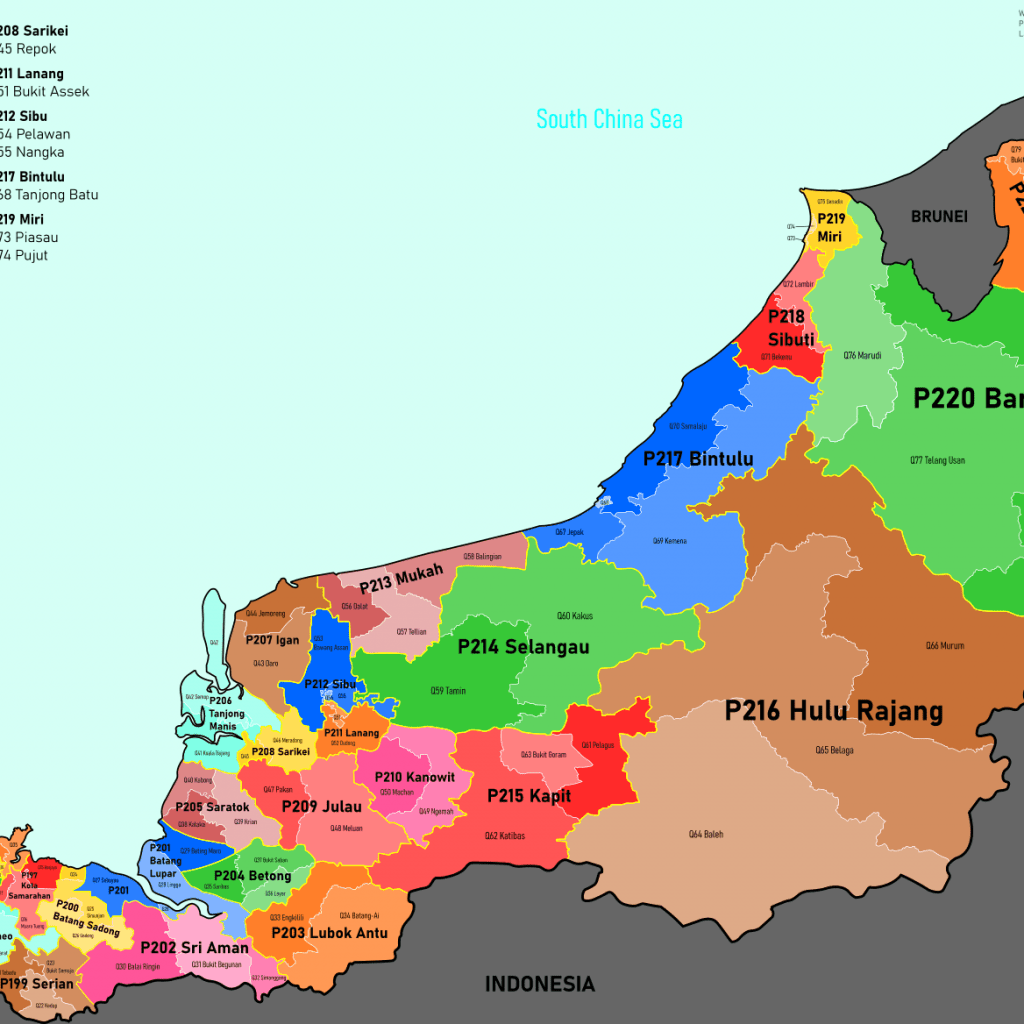 The result is that Harapan has lost its position as leading the opposition in Sarawak, a development that foreshadows changes taking place with the opposition nationally. Unless Harapan opts to make substantive leadership changes and readapt its messages to new current realities.
Harapan will likely blame their poor results on the fact that the campaign was not a fair one. Indeed, it was muzzled by Covid-campaign restrictions and their uneven enforcement. Yet, the hope for Harapan among Sarawakians had evaporated even before the campaign started. In fact, the opposition did not have a cohesive campaign or messaging, with little new on offer. As it did in Malacca, record low turnout lower than 60% contributed to opposition losses, especially in urban areas. Voters did not come out to vote for them.
This is not just about punishment. GPS had effectively co-opted the core message of the opposition, greater state rights. When DAP gained ground electorally from 2006 it did so by pushing on issues of greater autonomy and oil royalty. In 2016, the Adenan Satem administration effectively neutralized these criticisms by standing up to the federal government in policies over education, religion and revenue.
Abang Jo's government in power since 2017 furthered this by finalizing the deal involving a state tax on oil and gas revenue with Petronas and showcasing its 'king-maker' position as vital for any federal government, as occurred in August this year. Without GPS support Ismail Sabri would not have had the numbers to govern, to even be able to sit down to discuss a MOU with the opposition (a measure that is now keeping him in power). Sarawak is seen to be getting both greater resources and recognition it deserves.
Never Be Out Of The Loop Again
Get daily morning briefs on Malaysian news with our Between The Lines newsletter
In contrast, Harapan has lost its relevancy in the dominant political narrative of state nationalism. In the Sibu by-election of 2010, the DAP introduced the hornbill 'ubah' (change) mascot. By 2020, GPS had appropriated the hornbill for its own logo, as it has similarly appropriated a state nationalist agenda for its legitimacy. Now, Sarawak is singing its own song, and it is getting louder as the call of state nationalism has become more entrenched. Parti Sarawak Bersatu (PSB) winning the most opposition seats (largely with stalwart incumbent victories) shows a deepening trend of regional parties and overwhelming support for Sarawak separateness.
Abang Jo now has the political space to come out of the shadows of predecessors Taib Mahmud and Adenan Satem. It is not clear how he will do this without stoking more autonomy demands. Recent political history has also shown that with big victories there are big headaches as internal coalition infighting and jockeying emerge.
The GPS coalition is caught with a need to promote and protect 'Sarawakness'. At the same time, further initiatives in this regard will potentially destabilize federal-state relations and open up further demands for independence among Sarawakians. This was already evident with the emergence of Sarawak independence parties in the 2021 campaign and will likely intensify further.
The immediate effect of the Sarawak polls is that while an ally of Ismail Sabri won resoundingly, the Ismail Sabri government has been further weakened by having to accommodate greater demands for autonomy it will struggle to deliver to the newly elected Sarawak state government.
DR. BRIDGET WELSH is currently an Honorary Research Associate of the University of Nottingham, Malaysia's Asia Research Institute (Unari), based in Kuala Lumpur. She is also a Senior Research Associate at the Hu Fu Centre for East Asia Democratic Studies, and a Senior Associate Fellow of The Habibie Centre. Her writings can be found at bridgetwelsh.com.