Known as the Jewel of Kedah, Langkawi — an archipelago of islands nestled comfortably at the point where the Straits of Malacca and the great Andaman Sea meet — has long been a popular holiday destination for Malaysians and international tourists looking to leave the bustle of dusty city life for Malaysian hospitality, sandy beaches and turquoise waters. But Langkawi's popularity comes at a price.
Marine biologist DHIVYA NAIR makes a case for why heavy development and land reclamation could take more from the island than it claims it will give.
On Jan 20, 2021, news broke about [email protected], a mega-development in Langkawi reportedly involving reclamation of nearly 2,000 acres of coastal sea area near Padang Matsirat, which would be turned into luxury resorts, golf courses, business centres and shopping malls.
This is not the first time a project like this has threatened Langkawi's coastline. In 2018, a similar project called the Langkawi New City with an RM30 billion price tag made headlines. While the project never came to fruition, it seems as though further plans were made anyway, with this new project being 10 times larger and with a much heftier RM40 billion budget to boot.
What's been done for decades
As catastrophic as it sounds, Malaysia — and Asia at large — are no stranger to land reclamation projects along the coastlines. China, Singapore, Japan and many other countries have turned to it as a means to support fast-paced development. Locally, states like Penang and Johor have also embarked on similar projects, and face controversies of their own.
But what does land reclamation entail? Simply put, it means making new land with sediment that usually comes from the sea. While there are various ways to go about achieving this, the simplest is by dredging up seafloor and filling in the intended areas with the collected sediment.
Just by its definition, it's obvious how this could disturb the surrounding environment. This is why an environmental impact assessment (EIA) must be done before any work can be carried out. 
An EIA tells us exactly how the environment at a proposed project site will be impacted. It should include assessments on how the physical, biological and socio-economic conditions of the area might change, and whether the environment can withstand these changes.
Land reclamation: What is it?
It's the process of creating more land space from sea, oceans, river or lake beds. Known as penambakan tanah or penambakan laut in Bahasa Malaysia, its usually carried out for development activities, encompassing:
Infrastructure
Recreation/Tourism
Industrial
Artificial Islands
Biodiversity's death by a thousand cuts
So, what would these impacts look like? Well for one, Langkawi's sediment is already extremely fine, and just about any disturbance to it causes extreme turbidity and low visibility. 
The mudflats and coral reefs adjacent to this area are home to an amazingly diverse array of marine organisms such as crabs, juvenile fish, octopuses, seahorses and so many more. The dredging and silt from reclamation could change the sedimentary makeup of the seafloor and suffocate these animals.
Besides water quality issues, reclamation projects often produce a lot of underwater noise, which will heavily impact marine life. Dolphins and porpoises, in particular,  –– like the Indo-Pacific humpback dolphins and Indo-Pacific finless porpoises that call Langkawi's waters home –– rely heavily on sound to navigate and communicate, a link most significant between mother and calf. Loud noises often mask the sounds these animals generate, further affecting foraging and reproduction habits.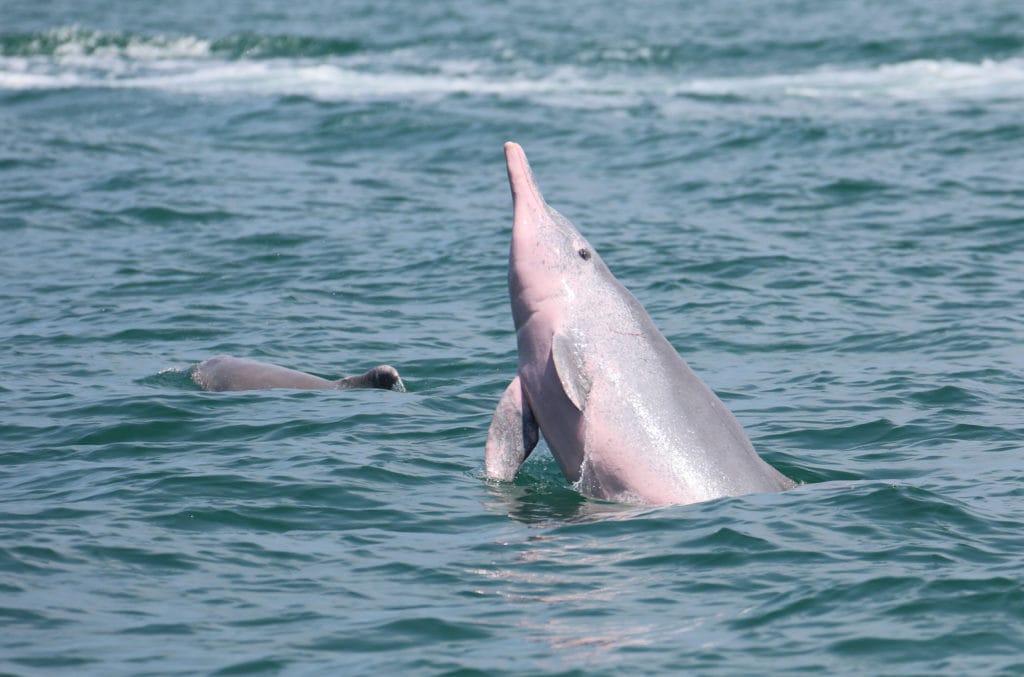 Already the population of both species are declining, leading to them being classified as endangered and protected under Malaysia's Fisheries Act 1985. They are also listed as 'Vulnerable' under the International Union for Conservation of Nature's (IUCN) Red List, meaning they are in serious threat of global extinction.
We at the MareCet Research Organization have been conducting cetacean (the order of marine mammals that include whales, dolphins and porpoises) research and conservation work in Langkawi since 2010. According to our research, the location of the proposed development project, as well as surrounding areas, are important feeding grounds for both species.
Given the scale and likely impact of the project, their numbers would only dwindle further as the animals are likely to avoid the area altogether. 
Get daily morning briefs on Malaysian news with our Between The Lines newsletter!
And it's not just the wildlife that'll be affected. Land reclamation projects often cause physical changes in the area. They could influence tidal flow and waves as well as destroy coral reefs, intertidal habitats and mangrove forests that protect our coastlines from erosion.
Minerals and chemical byproducts of reclamation could further pollute our waters. In the extreme, this project could decimate Langkawi's biodiversity and threaten the fragile ecosystems and complex marine food webs of the island.
All this would be a huge miss where Malaysia's National Policy on Biological Diversity 2016 – 2025 is concerned. In fact, if the project were to really go ahead, we'd be failing to meet two out of the five policy goals –– to reduce the threats to our biodiversity and the conservation of all the country's ecosystems and species.
The five goals of the National Policy on Biological Diversity
( 2016 - 2025)

Empower and harness the commitment of all stakeholders to conserve biodiversity

Significantly reduce direct and indirect pressures on biodiversity

Safeguard all key ecosystems, species and genetic diversity

Ensure that the benefits from the utilisation of biodiversity are shared equitably

Improve the capacity, knowledge and skills of all stakeholders to conserve biodiversity
Source: Malaysia Biodiversity Information System (MyBIS) website
What about the fisherfolk?
To some, it would almost sound like a broken record to point out that another issue with projects such as [email protected] is the resulting socio-economic impact on the local population. The Penang South Reclamation (PSR) project had fishermen voicing out over dwindling catches. This allegedly left them with a much lower income and surviving meant having to go out further into deeper seas or to invest in different, more expensive, equipment.
Ironically, Kedah's current Menteri Besar Muhammad Sanusi Md Noor was once upon a time seen protesting alongside fishermen at Sungai Batu in Penang over planned reclamation works there. Surely, the same factors apply here and he should be standing with his people now?
Yet it was he who announced the planned [email protected] (*See Muhammad Sanusi's response below). So what happened? The views and principles he upheld so publicly not more than five years ago can't have changed so drastically since? Shouldn't he now be able to stand by such principles again, given his position of authority in the state he governs? 
Sadly, despite our national policy on biodiversity, and the many environmental laws that exist in Malaysia, implementation and enforcement appears to be an entirely different story altogether. Official guidelines for coastal and land reclamation can be outdated, and this could give developers more leeway and freedom when pursuing these huge development deals. 
However, one cannot only think of the economy and profit that could be generated, as development requires the consideration of multiple factors and aspects involved.
All in all, it would seem that every possible factor mentioned above would lead to a hard no for this project. There's also no solid evidence that restoration efforts after all the damage has been done will even work. We can't know for sure that the environment will be able to bounce back after disturbances of this scale. 
So why then, do investors and developers continue to pursue projects such as this? Do we really need yet another development project? Why destroy what's natural when we can conserve and preserve it instead?
It might be the false idea that modernising every corner of our beautiful country would allow Malaysia to achieve the status of a developed country.
With the amount of funding involved with the Langkawi project, couldn't we do better with the existing infrastructure and facilities in place, and aid local communities in preserving and conserving the biodiversity that Langkawi, and our country, have been gifted with? 
Given the current state of the world and the country due to the Covid-19 pandemic, a fully recovered and revived tourism industry (to which this project seems to want to cater to) seems a distant future.
Before the pandemic hit, Langkawi saw over three million visitors annually. But with the nation's borders closed to curb the spread of the virus, it looks like no one will be travelling to Malaysia for holidays anytime soon. Langkawi is no exception. 
As such, with the tropical waters of the Langkawi archipelago a designated IUCN Important Marine Mammal Area (IMMA) and the island being a UNESCO Global Geopark (the first in the region with that status), surely it'd be worthwhile to invest in and boost nature-centric tourism. The island's tagline is, after all, "Naturally Langkawi".
A new EIA needs to be done to assess further impacts of this project. The 20-year development period, in which no sure profit is to be gained for the economy, may still incur financial losses and will along the way irreversibly destroy much that is natural and living.
Development, done responsibly and sustainably, is definitely welcomed – and needed in many areas of our country. But it shouldn't come at a cost to the environment and to our people.
NOTE: Between The Lines contacted Kedah MB Muhammad Sanusi — who is also state exco for economic planning, town planning, land matters, earth and natural resources — over MareCet's concerns regarding the [email protected] project.
He said work on the project has yet to begin, and that he'd been informed the necessary EIA approval had been previously obtained by another company. However, this was before the project was taken over by the Widad Business Group (WBG).
"Nothing has been done yet. In the development process, there are many regulations that must first be followed (such as obtaining) planning permission, EIA, National Physical Planning Council (NPPC) and others…that is when all these (environmental) concerns will be detailed.
"The land use (for the project) must first be approved and then they can apply for the (new) EIA. If we don't approve the use of the land for them, how can the process (of obtaining the EIA) be done?" he said.
Dhivya Nair is a marine biologist and project assistant at The MareCet Research Organization. She holds a degree in marine biology from the University of Queensland in Australia.
Finally! A newsletter that keeps it nice and short.
At Between the Lines, we summarise and contextualise the most important Malaysian news for you.
Subscribe to our daily morning Email Newsletter for your bite-sized news of all that you need to know in Malaysia and beyond- for only RM10 a month! First month's on us.