For almost two months, Malaysians were largely confined to their homes, thanks to the movement control order (MCO). Many were stuck between a rock and a hard place due to their eagerness to get back to work, fuelled by diminishing incomes and prolonged economic inactivity, conflicting with a fear of exposure to the Covid-19 coronavirus which has killed hundreds of thousands globally.
So, the residents of Klang Valley might have looked at their water bills between March and April and felt the low or nominal charges made their lives just a little easier in what was a tough time for many.
But, in the past couple of weeks, as the country has begun to ease into the less restrictive conditional MCO (CMCO), and as new water bills have begun rolling out, some received a rude awakening. The latest bills did not just compensate for any prior low charges, but seemingly ballooned to triple, even quadruple, consumers' usual amounts even before the lockdown.
Some might have looked at the new bills and raised the issue with Klang Valley's sole water service provider – Air Selangor, thinking theirs were isolated cases. But a check on Air Selangor's social media channels over the past week showed hundreds of grouses from people shocked by the sudden spike.
In many cases observed by Between The Lines (BTL), people who had bills of around RM20 a month previously now received bills upwards of RM90 or even exceeding RM100.
A slight spike in this month's water bill was already anticipated. Up to February this year, Selangor allowed its residents, irrespective of economic status, to enjoy up to 20 cubic metres of free water. However, from March 1, the state was to begin enforcing its Darul Ehsan Water Scheme which would only accord free treated water for registered Selangor households with a monthly income of RM4,000 or less. The rest were to have been charged based on consumption, the minimum amount being RM6.

Then came the MCO lockdown, which resulted in Air Selangor announcing it would suspend house-to-house meter reading between March 18 and April 30.  
The bills kept coming during this period. Those that received water bills, however, just got estimations; the May bills were supposed to make up the difference once meter readings resumed. 
On May 2, Air Selangor started resuming its meter reading operations, after the MCO was relaxed to allow many economic activities to resume. The problem that seems to have been overlooked was Air Selangor's tiered billing system. 
For domestic users,  usage between 0-20 cubic metres a month is charged at RM 0.57 per cubic metre. For the next 15 cubic metres, the tariff almost doubles to RM 1.03 per cubic metre. And if any domestic usage exceeds 35 cubic metres, the tariff is RM2 per cubic metre. 
Many consumers claim the problem arose when Air Selangor treated the combined estimated readings for the previous months and May as one monthly consumption instead of calculating them separately.
A similar incident was witnessed in the past week involving national energy provider Tenaga Nasional Berhad (TNB) over supposedly high electricity bills, and this has affected the whole country. Like Air Selangor, TNB suspended meter-reading during MCO before resuming the process recently.
TNB, too, employs a tiered billing system. 
If previous and current month usage is combined into a single bill following a meter read, the charging of higher rates for consumers becomes very feasible.
Here's an example of how that could happen.
Billing example – MCO period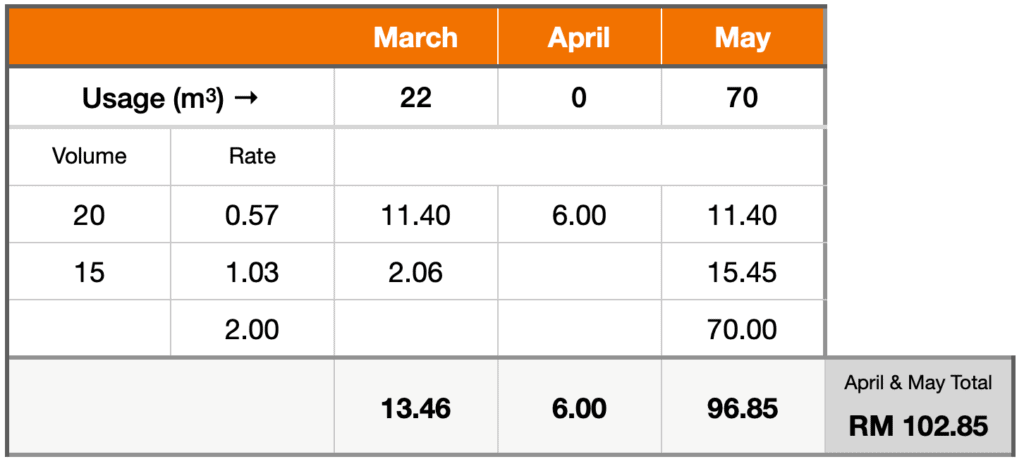 Billing example – Regular cycles

Air Selangor: Higher water consumption
But despite receiving scores of complaints about this issue, Air Selangor has not made any mention about the possibility of them overcharging consumers due to higher tariff rates – even though the volume of complaints was clearly large enough for Air Selangor to issue a press statement on May 20 to explain the situation. 
According to them, the higher bills could be due to higher water consumption during the MCO period, as most Malaysians remained in their homes, or because of leaky pipes. The company encouraged people to call into their carelines or write into their social media channels if they felt their meter reading was not accurate. 
Air Selangor did not respond to Between The Lines' questions on the matter. 
When the statement was published on their Facebook page, the post was inundated by users expressing their dissatisfaction over the explanation. Most users claimed their bills more than quadrupled, in some cases going up to over RM180. 
"Are you saying all the homes (that had high bills) had burst pipes?," one user asked. Users have also resorted on posting their queries and expressing their anger on other posts on Air Selangor's Facebook page, such as a post on how to make a smoothie using dates. 
"How did a RM6 bill turn into RM78?," a user asked..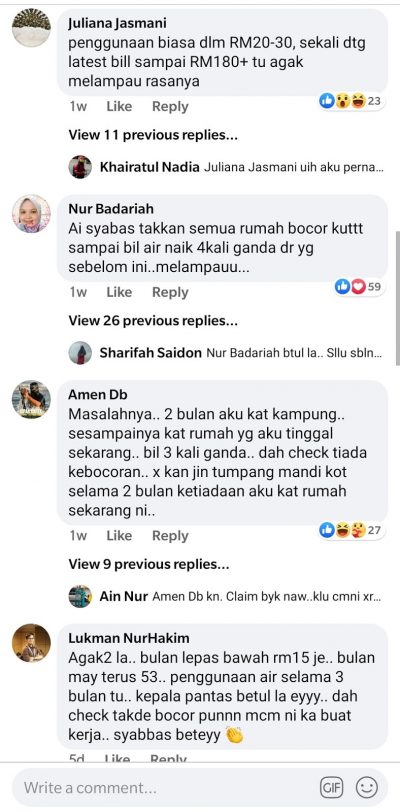 The increasing grouses of the users have not escaped the attention of consumer organisations. Malaysian Water Forum president Saral James Maniam, said Air Selangor must do better to explain the situation. 
"A four-fold hike is really unreasonable.
"There are very few people who can afford to pay above RM100 for a water bill," she told BTL.
Saral claimed MWF had already raised the issue with Air Selangor after noticing the increasing volume of similar complaints, but were greeted with a response similar to the statement the water company issued previously. 
S Piarapakaran, from the Association of Water and Energy Research (Awer), meanwhile, told BTL that those who had burst pipes would have noticed a spike in their bills even before the MCO. 
He advised consumers who are unhappy with their bills to forward their complaints to the National Water Services Commission (SPAN).
"The tariff tiers are for monthly usage. They can't be all be used for a single bill if the (meter) reading is for more than a month. Any changes in the way the tariff tiers are used needs to be approved by SPAN, so people could complain to them," Piarapakaran said when contacted.
"They are the regulators, and they are paid to address such issues." 
Consumers can write to SPAN with their complaints, at [email protected]
At the time of writing, SPAN is yet to respond to BTL's questions regarding the volume of complaints they have received and the mitigating measures being taken by the national water regulator. 
Air Selangor, too, has yet to introduce any measures to provide relief to consumers during the MCO, except for temporarily suspending meter readings, unlike TNB which had provided a 50 percent discount for the lowest tier of their electricity tariffs for domestic usage. 
It's true that there is no blueprint for how each country must deal with the health and fiscal ramifications of this pandemic, which has brought the world to its knees in just half a year. Yet, as authorities continue to battle the Covid-19 outbreak while simultaneously attempting to revitalise a stagnant economy, Malaysia must not neglect its people's most basic needs.
Take a Minute to Read This
Between The Lines is a weekday email newsletter that sums up the main news of the day with context — and a fair bit of sass. What you get is an easy read that brings you up to speed on what's happening in Malaysia.
Only RM10.00 / month with 1 month free trial