In the history of modern Malaysia, there's never been a socioeconomic crisis quite like today's. The pandemic has hit hard and social safety nets have been grossly inadequate. But the struggle for survival among low-income families is not new: Covid-19 simply deepened the income inequality divide. MANGAI BALASEGARAM delves into Malaysia's poverty inequality amidst the global health crisis.
Get daily morning briefs on Malaysian news with our Between The Lines newsletter!
There are harrowing stories that aid workers have become familiar with over the last year– families going hungry for days, mothers kicked out of their rented homes, senior citizens begging for food, and families living on instant noodles or tapioca. 
The Covid-19 pandemic has not just had a severe health impact; it has wreaked untold social and economic suffering in Malaysia. Long lockdowns and a nosediving economy have meant missed opportunities to earn, and lost livelihoods. 
After the first Movement Control Order (MCO) in March 2020, unemployment shot up to a high of 5.3% in May, with more than 826,000 unemployed persons — the highest figure since 1982 — according to the Department of Statistics. 
Things got so bad that white flags fluttered outside thousands of homes across the country earlier this year, as part of the national "Bendera Putih" campaign to signal a need for assistance. 
Those most vulnerable have been the poor with little assets or savings, informal workers not covered by social safety nets and those without jobs or income due to MCOs, notes economist Kenneth Simler in a World Bank blog.
For many, there is no "work from home" opportunity – one study found about 65% of jobs in Malaysia cannot be done at home.
For the hardcore poor, every day is a battle to survive: some rely on handouts or soup kitchens or – if possible – wild bananas and vegetables; others even rummage through rubbish bins, aid workers say.
Child activist and Yayasan Chow Kit co-founder Dr Hartini Zainudin gets besieged with 100 to 150 calls for help every day.
The callers usually start with an apology: "Maaf Puan." And then, "I'm sorry to bother you… I'm a [daily wage labourer / construction worker / delivery man…]  I'm sorry I have a family and I'm laid off. I'm sorry, I have no money."  
They send photos of their empty food bins and painstakingly cleaned, but bare kitchens.
In heartbreaking video calls, some have even gone on their knees begging for food. "Families leave voice messages of crying children, hungry and begging for food," says Hartini.
She says the pandemic's impact has been felt most deeply in Sabah, which had a 19% poverty rate prior to the pandemic. Heavily reliant on tourism, the fall in tourists has hit hard, leaving entire villages begging for help.  
Many calls also come from Kelantan, where a familiar story is a single mother getting evicted due to unpaid rent. 
Hartini says in one case in Kelantan, a mother had to sleep in a hut by the roadside with her 3-year-old son and baby daughter after the landlord threw them out one night. During the night, the 4-month-old baby got bitten on the face by a monkey and landed up in intensive care. 
Another case involved a grandmother struggling to look after her young granddaughter, who was left alone and penniless after her parents died from Covid. The elderly lady was renting a room for RM20 a day in Chow Kit when she could find the funds; otherwise the 2 slept on the street. Hartini is raising funds for their rent.
The government has offered cash handouts and other aid but that has not been enough or has failed to reach those in need.
In May 2021, the United Nations Children's Fund (Unicef) warned that the poorest families in the Klang Valley were on the brink and could starve without help in the face of movement restrictions. 
A 9-month research project on 500 families living in low-cost flats in Kuala Lumpur that began in May 2020 found most (63%) heads of households were struggling to meet essential expenses such as buying adequate food or paying bills on time.
The study, commissioned by Unicef and the UN Population Fund and undertaken by research firm DM Analytics, also found that unemployment rates and depression among participants were far higher than national averages.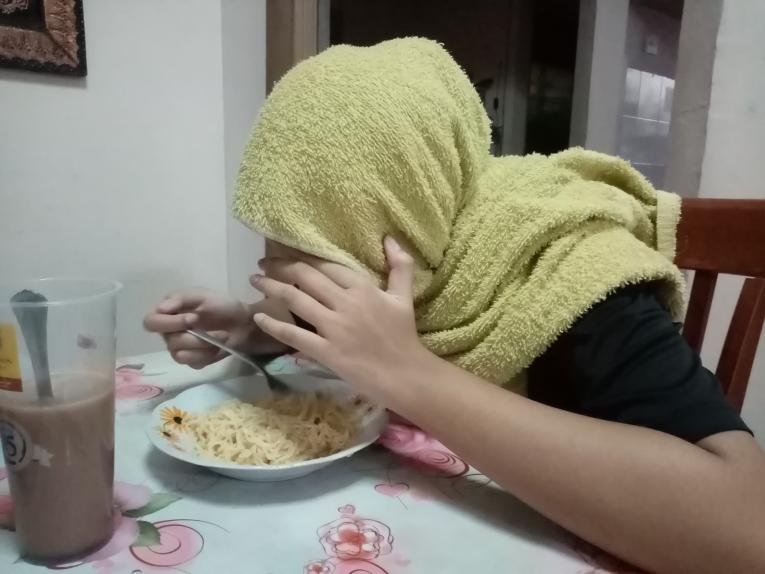 Covid-19 has also pushed many middle class families into poverty. More than half a million people in the middle-income group (M40) have sunk into the bottom 40% of income groups (B40) the government announced in September.
Food aid, diets and disease
Poverty is also visible in food intake. An estimated 10 million people suffered "food insecurity" at some point in the pandemic, says Unicef, which is calling for financial support for meals.
The school meal programme, a critical food source for poor children, was unavailable when schools closed due to Covid. 
Joycelyn Lee, the co-founder of Pit Stop Community Café that serves homeless people, knows well how poverty and diet are related. 
"Condensed milk thinned out with water fed to children is not a thing of the past – it is still very much present. A pack of instant noodles shared between siblings? It's been known to happen. 
Lee further explains that it's not just about starvation, but also about the levels of malnutrition that have been experienced. 
Food budgets are often stretched with processed foods with high sugar and salt content, while food donations rarely provide vegetables, proteins or fruit. Health indicators show malnutrition is a serious problem in the country.
"There are still pockets of impoverished people in rural areas and the urban poor do not have enough money to access good nutritious food," says Professor Dr Sharifa Ezat Wan Puteh, a health economist with Universiti Kebangsaan Malaysia. Malnutrition predisposes them to obesity which puts them at higher risk of chronic diseases (and subsequently Covid-19).
Food aid alone is not a solution though. Poverty needs to be tackled holistically, she says.
This includes increasing the minimum wage, improving low-cost housing access, subsidising child care and providing aid for low-income households, particularly households with single mothers and people with disabilities (OKU), as studies show they were most hard hit. 
Get daily morning briefs on Malaysian news with our Between The Lines newsletter!
Rich-poor divide deepening
Economist Dr Muhammed Abdul Khalid, managing director of DM Analytics, says the negative impact from the pandemic was far greater on the poor (the B40) than the rich.
He criticises the decision to allow withdrawals of their Employees Provident Fund (EPF) savings, saying many of the poor depleted what little savings they had, including their retirement savings. Some 3.7 million EPF members would have zero savings post-withdrawal. 
Conversely, the super-rich fared well. The collective wealth of tycoons on the 2021 Forbes Malaysia Rich List actually grew 14% this year to nearly US$90 billion (RM371 billion).
Covid-19 has in fact magnified the rich-poor divide. Prior to the pandemic, the poor had already been struggling with the cost of living, the lack of affordable urban housing, high debt and extremely low savings, notes the World Bank's Simler. 
Malnutrition, too, was a serious pre-pandemic problem, with stunting – a telltale sign of poor nutrition – increasing in recent years. A shocking 21% of Malaysian children under 5 were stunted in 2019, says Unicef, a high figure given the country's wealth – it's twice as high as in the Palestinian Territories. 
of children under five suffer from stunting
of children suffer from wasting
of children (5–19-year-olds) are obese
In 2016, Khazanah Research Institute found that households with monthly incomes below RM2,000 were spending 95% of their incomes on consumption, with the remaining cash at the end of the month just RM76 on average. 
Meanwhile, the income gap between the country's top earners (top 20% or T20) and the B40 has been increasing. The Gini coefficient, a measure of inequality, has widened since 2016. 
Muhammed warns the gap will continue to widen as education — the key to upward mobility — is becoming increasingly unequal. "If we are not careful, we will have a very unequal society in the near future, which is bad for growth and stability."
Stronger social safety nets are needed, he says. EPF and SOCSO, the two major pillars of social protection, do not cover some 40% of the workforce, such as self-employed and informal workers.
Dr Michael Jeyakumar Devaraj, chairman of Parti Sosialis Malaysia, calls for introducing a universal pension – around RM300 a month – for the many older people who can no longer work and have no savings.
A pension for all, he says, would provide financial relief and dignity to the elderly, as they may be completely dependent on their children, who also may not have much money.
The 1-percenters and the Pandora papers
Malaysia's inequality gap is high compared to other countries in the region, but it's part of a global trend of the rich getting richer, with the rise of "the 1%".
 The world's richest 1% currently own more than the rest of us combined, says the charity Oxfam International.
8 men own the same wealth as the poorest half of the world. 
Many factors are to blame – the "super-salaries" of top bosses, crony capitalism, low corporate taxes, undertaxing of the rich, technology and globalisation.
 "Creative" accounting has led to much tax evasion, while an estimated 10% of the world's wealth may be held in offshore tax havens. 
Calls to stop such practices are growing. A report released in October by the International Consortium of Investigative Journalists, the "Pandora Papers", showed how hundreds of politicians, premiers, billionaires and celebrities were hiding trillions by using shell companies and offshore accounts.
The Papers revealed RM1.8 trillion was taken outside of Malaysia – with money often moved through Singapore – and involved several ministers, a former deputy prime minister and, bizarrely, even the sons of former finance minister Daim Zainuddin, who became multimillionaire shareholders of an offshore firm at just nine and 12 years old. Such excesses underscore the deep divide of wealth.
Oxfam minced no words on the exposé in a statement. "This is where our missing hospitals are. This is where the pay-packets sit of all the extra teachers and firefighters and public servants we need.
The taxman favours the rich
It doesn't help that Malaysia's tax system largely favours the rich.
The top tax rate is a mere 30%, whereas in some European countries, it is almost double that figure. Taxes common in other countries – such as an inheritance tax or capital gains tax – are absent in Malaysia. 
The whole system needs a revamp, says Muhammed. 
… Most of them pay little taxes."
The recent budget did include a one-off prosperity tax for the 2022 assessment year, which is expected to raise RM3 billion. Some are calling for a regular wealth tax. 
But such a tax, feels Dr Jeyakumar, could spark capital flight, resulting in lost investments and jobs. He argues raising corporate taxes, too, could result in investors reinvesting elsewhere. And increasing workers' wages could also result in losing orders to Thailand or Vietnam. 
"It's the whole international financial network. The world has become more corporate friendly since 1980." Corporate taxes have dropped to 24% currently, whereas in 1980, 40% of profits were taxed. 
He says to challenge this, ASEAN countries should club together and increase minimum wages. "We need to reconfigure the financial architecture of the region. We're being ripped off."
But doing so involves immense political will, not just in Malaysia, but the world.
Resolving the global inequality gap is likely to be far harder than coming out of the pandemic.